School districts reviewing phased re-opening plans amid state entrance into phase 3
Ascension Parish
The Ascension Parish School System said Thursday, it will update its plan on transitioning more students to daily in-person learning soon after the governor revealed the state will move into phase 3 of its reopening plan.
The school system said while it has already outlined each of its phased reopening plans (posted here), it needs time to evaluate and organize.
The school system released a statement Wednesday updating its plans for phase 3, which includes transitioning 6th-8th grade students to in-person classes five days a week starting Sept. 21. All three grades will be in-class full-time by Sept. 23.
Students Pre-k through 5th grade will continue with daily in-person classes.
High schools will remain on a hybrid schedule with some exceptions.
"Donaldsonville High School will move to daily in-person learning starting Monday, Sept. 21, 2020. However, due to the large size of their student populations, Dutchtown High, East Ascension High, and St. Amant High will continue a hybrid schedule for at least the remainder of the first 9 weeks. Additional information about high school transitions from hybrid to daily in-person learning will be communicated out by September 30, 2020."
East Baton Rouge Parish
East Baton Rouge Parish Schools released a plan saying it will transition to face-to-face learning five days a week in October. You can view the breakdown below.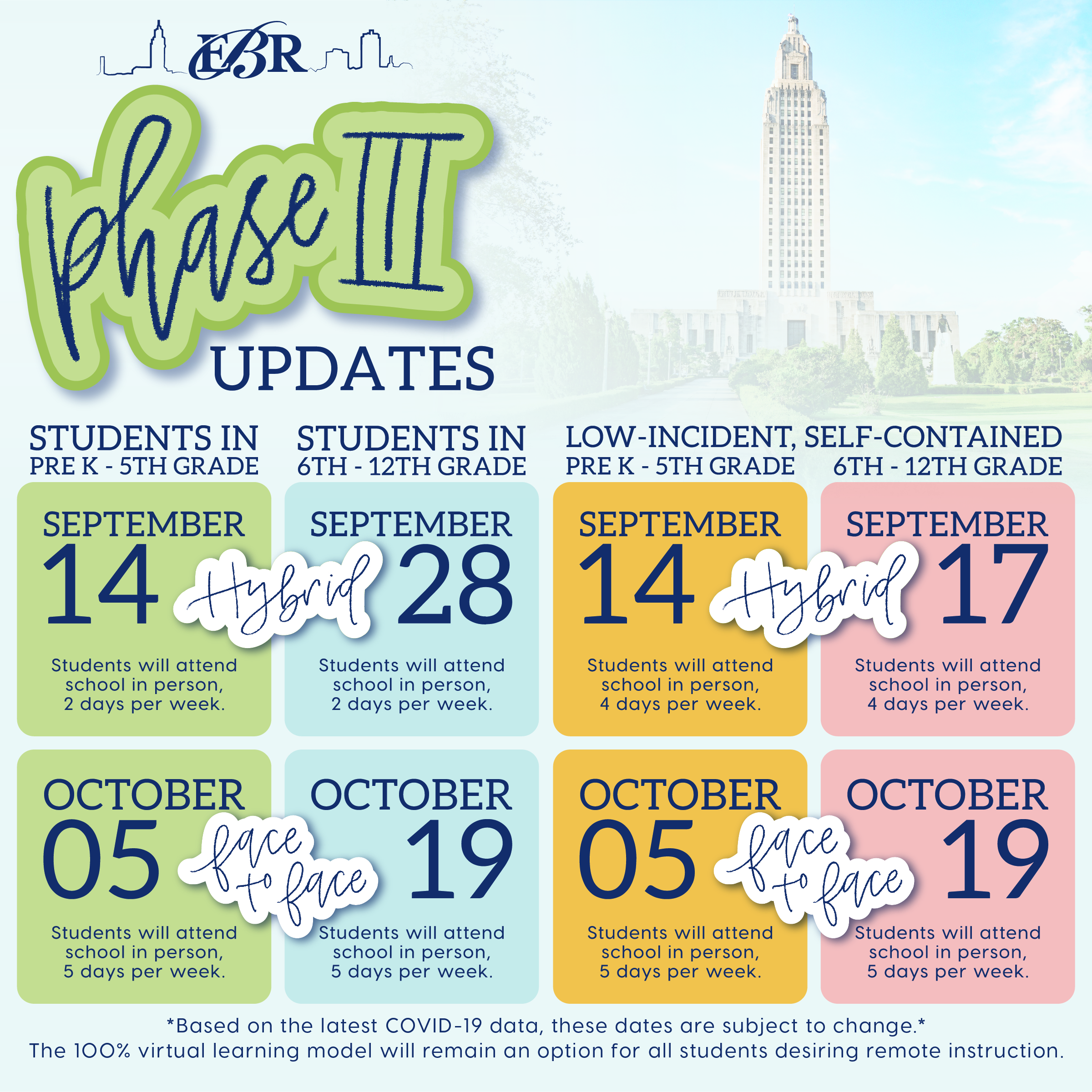 You can read the full plans from East Baton Rouge Parish here.
Zachary Schools
The school district said Thursday, it was moving ahead with its hybrid to full traditional transition, as planned, for 7th-12th graders.
"During phase 3, group sizes will increase from 25 to 50 individuals and bus capacity from 50% to 75%. Safety measures, including but not limited to required face coverings, symptom monitoring, and social distancing to the greatest extent possible, will remain," the superintendent told parents in a message Thursday afternoon.
Middle and high school hybrid groups A and B will begin attending school five days a week, on Monday, September 21.
"This will allow time to make any adjustments necessary to ensure a smooth transition. Any additional information will be shared with you next week," the district said.
Students who are 100% virtual will remain 100% virtual, with the option of returning the second semester.
More News
Desktop News
Click to open Continuous News in a sidebar that updates in real-time.