DA says officer was 'wholly justified' in shooting that left deputy, suspect dead
BATON ROUGE - The East Baton Rouge district attorney has revealed new details in the officer-involved shooting that left a sheriff's deputy and an accused rapist dead last year, saying the detective who shot and killed the suspect was justified in his actions.
District Attorney Hillar Moore broke down the shooting in a Friday press conference. The shooting happened at a strip mall near O'Neal Lane in March of 2017, while Deputy Shawn Anderson was assisting in the arrest of Brandon Wiley, who was accused of raping a teenager at the time.
Moore says Anderson had been called to meet up with a detective who was planning to take Wiley into custody at the Classic Cuts barbershop. According to the DA, the two located Wiley inside the shop along with a different teenage girl.
According to the report, Anderson did a brief search of the building and then began to check the suspect for weapons. As the deputy was patting Wiley down, the detective spotted a handgun holstered on his person. When the detective shouted to warn Anderson about the firearm, Wiley unholstered the weapon and pointed it at the deputy. Anderson then attempted to wrap his arm around the suspect's forearm to keep him from firing the gun.
The detective, who was at the front of the barbershop, then pulled his own weapon and moved to the shield the teen.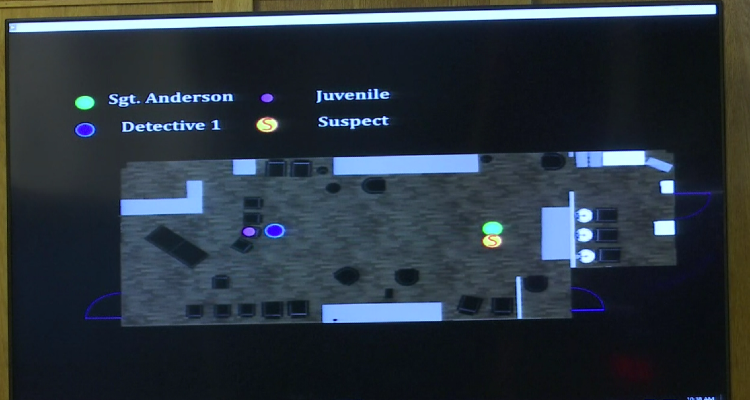 DA's graphic showing the layout of the barbershop at the time of the shooting
Wiley fired several shots, one of which fatally struck Anderson in his back. When the deputy fell to the ground, Wiley fired shots toward the detective in the front of the store. The detective returned fire, striking Wiley multiple times.
As the detective was looking for the weapon on Wiley's person, the shooter grabbed the officer's arm. The detective fired one more shot and immobilized Wiley before placing him in handcuffs. The detective then attempted to perform CPR on Deputy Anderson as they waited for EMS to arrive.
Anderson was taken to an area hospital where he was pronounced dead later that night. Wiley would succumb to his injuries days later at another hospital.
After the district attorney finished detailing the timeline of the shooting, he said there was no doubt the detective was justified in shooting Wiley. Due to the nature of the shooting, he added that the matter would not even be presented to a grand jury for consideration.
"The detective's actions were wholly justified based on the encounter that he faced," Moore said."The detective had no choice but to protect himself under these circumstances."
You can view the full report from the district attorney's office by clicking HERE.
More News