Wednesday morning video forecast
Related Story
A sure sign of returning humidity and an exiting fall feel is the low temperature trend. Since thermometers can never drop below the dew point temperature, and dew points are indicative of the level of humidity, we can tell that humidity will be on the rise through the weekend. Low temperatures will return to the low 70s, which is more normal for the time of year and you will open the door to a stickier air mass.
Today and Tonight: Some clouds associated with the remnants of Irma will pass through local skies today. Holding out full sunshine, high temperatures should not climb out of the mid 80s with west, southwest winds of 5-10mph. Clearing is expected overnight with low temperatures in the mid 60s.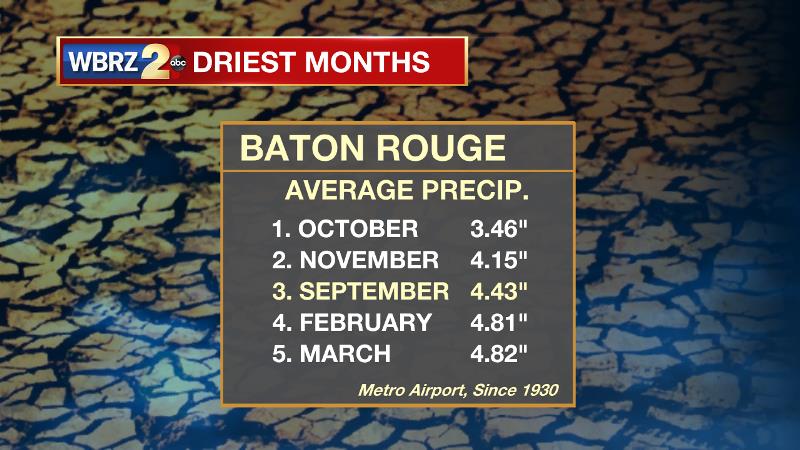 Through Tuesday, the Baton Rouge area has gone a week without rain, continuing a deficit for the month of September. There is no cause for alarm on this, dry stretches are normal during the fall months and gauges are still running a surplus of approximately one foot for the year. If you want to keep the lawns and gardens happy though, you might consider watering in the days ahead.
Up Next: Another mostly sunny sky is expected on Thursday with a return to more seasonable temperatures. Highs will climb into the upper 80s. By Friday morning, some stickiness will be felt with lows in the upper 60s. Friday through Sunday will be near normal with highs in the low 90s and lows in the low 70s. An isolated afternoon shower or thunderstorm will be possible—especially Friday or Saturday.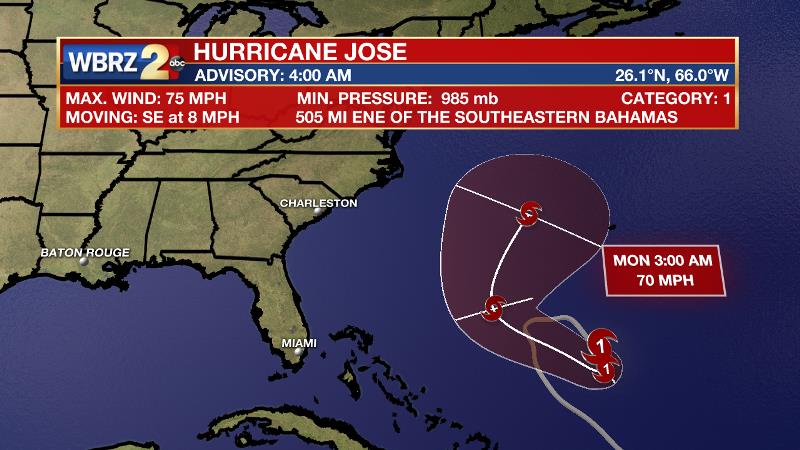 The Tropics: Hurricane Jose is still spinning in the Atlantic Ocean between Bermuda and the Bahamas. At this time, the storm packs 75mph winds and a minimum central pressure of 985mb. The National Hurricane Center forecast continues to show Jose looping out to sea between Bermuda and the Eastern U.S. over the upcoming weekend.
THE EXPLANATION:
The upper level trough associated with post-tropical Irma will remained positioned across the southeast U.S. through Wednesday. The thinner atmosphere will result in continued below average temperatures. In addition, an upper level trough axis and a pocket of moisture may result in more cloud cover than previous days. BY Thursday, these features will lift northeast and mostly clear skies will return. Temperatures will begin to climb a little bit as the trough weakens. Surface high pressure will take the place of Irma in the Eastern U.S. and resulting south winds will begin to introduce Gulf moisture once again. Seasonable temperatures and humidity will then be in place Thursday into early next week. Isolated afternoon showers and thunderstorms may fire along any subtle marine breezes Friday and Saturday, but an upper level ridge should build over the area on Sunday and Monday, limiting convection.
--Josh
News
A sure sign of returning humidity and an exiting fall feel is the low temperature trend. Since thermometers can never...
More >>
Desktop News
Click to open Continuous News in a sidebar that updates in real-time.