Tuesday morning video forecast
Related Story
Monday's rain coverage was a little beneath what was expected. Approximately 40 percent of the 13 Parish, 3 County forecast area received measurable precipitation while the forecast was for 60 percent. This may be a signal that the upper levels are slowly warming and stabilizing—a trend expected this week and one that should provide a few afternoons that are dry for most locations.
THE FORECAST:
Today and Tonight: A continuation of coastal showers in the morning and inland thunderstorms for the afternoon is expected. High temperatures will peak around 90 degrees during the midday hours before scattered showers and thunderstorms develop. One or two heavy storms are still possible with frequent lightning. Tonight will be quieter with lows in the mid 70s.
Up Next: A subtle change in the weather pattern is anticipated for the second half of the week. Look for showers and thunderstorms to become more isolated each afternoon Wednesday through Saturday. As a result of more time dry and sunny, area thermometers will peak a little higher and stay warmer longer. During this time, some locations will still find a quick shower or storm, but activity simply won't be as widespread.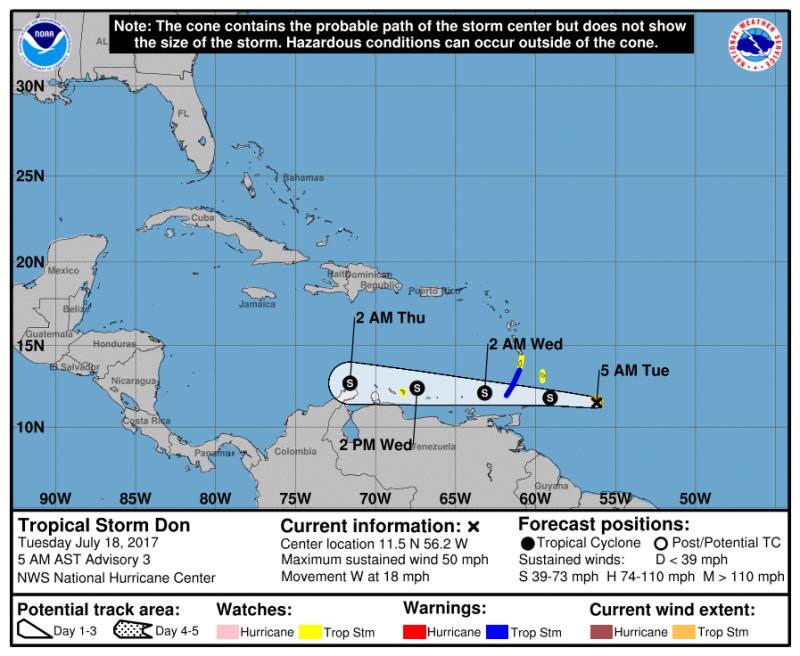 The Tropics: Tropical Storm Don continues to move westward at 18mph toward the Windward Islands with 50mph maximum sustained winds and a minimum central pressure of 1007mb. The storm will continue due west into the southern Caribbean Sea, scraping by the northern coast of South America. At this time, the storm is expected to weaken thereafter and not affect the United States. A trailing tropical wave in the Eastern Atlantic has a 40 percent chance of development before conditions become unfavorable.
Upper ridge tries to build across U.S. this week, which may result in less afternoon action | https://twitter.com/hashtag/LaWX?src=hash">#LaWX https://twitter.com/hashtag/MsWX?src=hash">#MsWX https://t.co/4GSLjXXou6">https://t.co/4GSLjXXou6 https://t.co/yDv5PovdK7">pic.twitter.com/yDv5PovdK7

— Josh Eachus (@JoshEachus) https://twitter.com/JoshEachus/status/887002330687840256">July 17, 2017
THE SCIENCE:
An upper trough will continue to push eastward through Tuesday. This feature has promoted increased instability combined with precipitable water values over 2 inches for scattered to numerous afternoon showers and thunderstorms. That trend should continue for at least one more day until that trough really starts to break down and exit the United States on Wednesday. By Thursday, coverage of showers and thunderstorms should lower into the isolated (20 to 30 percent) range as the atmosphere gets drier under influence of a building upper level ridge. Model precipitable water values drop into the 1.5 to 1.8 inch range. The ridge is expected to become centered over the Tennessee Valley to south Atlantic Coast region Friday and continue moving east over the weekend. So this may allow for a subtle increase in moisture and seabreeze convection Sunday, otherwise expect only isolated afternoon thunderstorm activity Thursday to Saturday. With less thunderstorm coverage, more locations will spend a longer time in the low 90s—making for some hot and steamy afternoons. High temperatures will climb a few degrees and be near to above normal
News
Monday's rain coverage was a little beneath what was expected. Approximately 40 percent of the 13 Parish, 3 County forecast...
More >>