Thursday morning video forecast
Related Story
Any cold front this time of year comes with much attention. Unfortunately, for this one, it may not be warranted. Other than a little drop in humidity, do not expect much change. If you suffer from allergies, keep in mind that ragweed and grass pollen will stay high.
Today and Tonight: A weak cold front will pass through the area this evening, likely without rain. If a shower can develop, it would likely occur in coastal areas. Prior to this, expect warm and humid conditions with a high temperature near 92 degrees. Skies will be partly sunny. Overnight will be mostly clear with lows in the low 70s.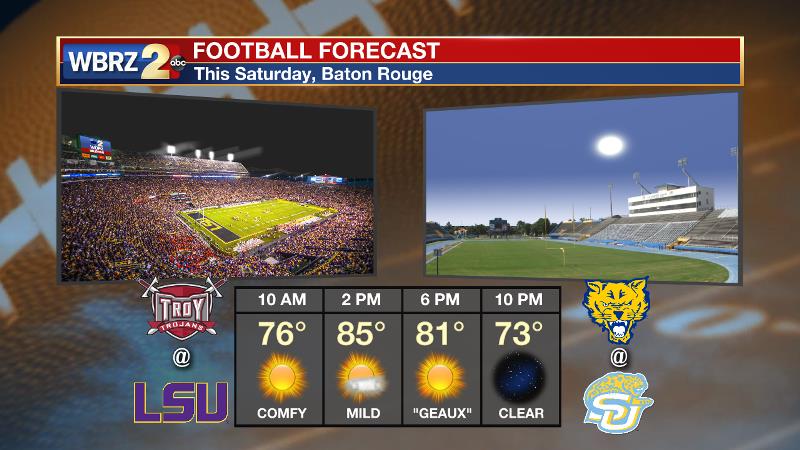 Up Next: By Friday, the local area will feel a drop in humidity. Lower dew points will allow overnight temperatures to fall into the mid to upper 60s while afternoon temperatures reach the mid to upper 80s Friday through Sunday. Outdoor plans for Saturday, including LSU Homecoming and Southern on The Bluff, appear to be in great shape. On Sunday, the afternoon brings a slightly better chance of an isolated shower or thunderstorm.
Water those parched lawns and gardens! Not in drought (yet) but cruising to one of our driest Septembers on record... #LaWX #MsWX pic.twitter.com/eIg1YiOHz6

— Josh Eachus (@JoshEachus) September 27, 2017
Rainfall continues to be a non-factor in the area with many point gauges moving toward their driest September on record. So far at Metro Airport in Baton Rouge, where records date back to 1930, only 0.08" of rain have fallen. The driest September occurred in 1953 when 0.09" of rain fell. Extending Baton Rouge area records back to the 1800s, September 1924 recorded no rain. Either way, a top three "dry" September is likely.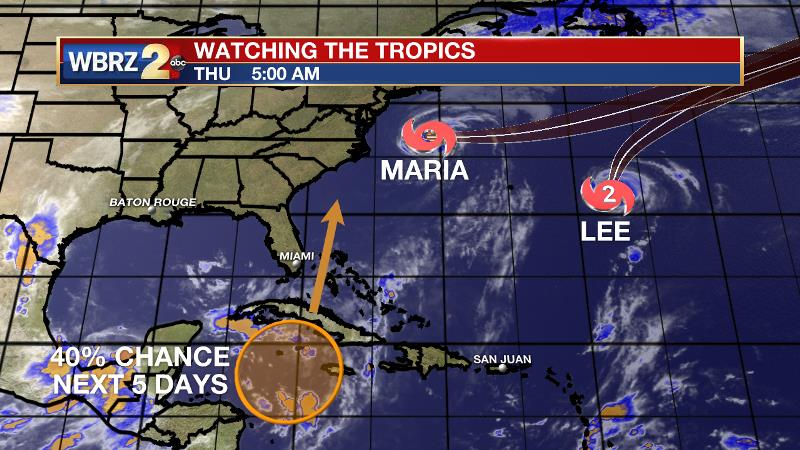 The Tropics: Tropical Storm Maria is positioned 275 miles east, northeast of Cape Hatteras with a minimum central pressure of 992mb and maximum sustained winds of 70mph moving east, northeast at 8mph. Heavy surf is expected to continue along the United States east coast through Thursday as Maria accelerates out to sea. Hurricane Lee is a small but strong storm with 110mph winds in the central Atlantic. Now curving out to sea, Lee will remain a fish storm, never threatening land. A disturbance south of Cuba will begin to slide north, briefly encountering conditions favorable for development as it nears Florida and the Bahamas. By the end of the weekend, conditions will become unfavorable. The National Hurricane Center gives a 40 percent chance of development over the next 5 days.
THE EXPLANATION:
A weak upper level ridge will position over the central Gulf Coast through Thursday as a shortwave trough crosses the northern tier of the country. This weak upper trough will drag a trailing surface cold front across the CONUS and send it through the local area late Thursday. Due to the upper level ridge in place, subsidence and drier air will make it difficult for any kind of frontal lift to generate showers and thunderstorms during passage. Prior to that front, the ridge will promote unseasonably warm temperatures with highs working well into the low 90s. On the other side, temperatures will be closer to average with highs in the mid to upper 80s and lows in the mid 60s Friday to Sunday. The bigger change from the front will be in humidity as dew points fall into the lower 60s. Therefore, although warm, Friday to Sunday will feel a bit more comfortable. Even though significant weather is not expected Sunday to Tuesday, the forecast is a little tricky with respect to rain chances. The local area may end up between a weak ridge to the northwest and a weak trough to the southeast. In between those two features, the central Gulf Coast could see a slight increase in rain chances on Sunday and Monday if deep layer moisture can return in time. Either way, a ridge will once again take hold of the region by the middle of next week promoting another stretch of warm temperatures and low to no rain chances.
--Josh
News
Any cold front this time of year comes with much attention. Unfortunately, for this one, it may not be warranted....
More >>