Thursday AM Forecast
Related Story
Big changes coming over the next couple of days.

THE FORECAST
Today & Tonight: Waking up this morning to temperatures in the low-70s. Still a bit muggy outside but we have definitely seen a drop in humidity over the past couple of days. By the afternoon, temperatures will climb into the low-to-mid 90s across the area, with mostly sunny skies. How hot you get is all dependent on when and where showers set up. Isolated showers will begin to bubble up by 3pm, and areas south of the I-10 corridor have a greater chance of seeing rain. Overnight the same pattern set-ups and we will do it all over again for Friday.
Up Next: Friday you will wake up to mostly clear skies and temperatures in the low-70s. The humidity is still there but the early morning heat is backing off. By the afternoon, you will be sitting in the mid-90s. A few isolated showers will be possible with a few stronger storms in the mix. Our typical summertime pattern is beginning to settle in. As the weekend starts, the same summertime pattern will continue. However, by Sunday we will begin to gradually shift back into the heat on repeat pattern. Starting each day warm and humid with temperatures in the upper-70s low-80s. Throughout the day, temperatures will climb into the mid-to-upper 90s and feels like temperatures will be triple digit heat. By the start of the week a string of excessive heat warnings and heat advisories are expected. Click here to see the 7-day forecast.
In the Tropics:
Tropical Storm Bret continues to gradually strengthen about 200 miles east of Barbados. The storm is moving west at 15mph with maximum sustained winds of 70mph. Bret should remain steady in intensity and speed as it brushes over the Lesser Antilles on Thursday followed by weakening and eventual dissipation over the Caribbean Sea this weekend in the face of harsh wind shear.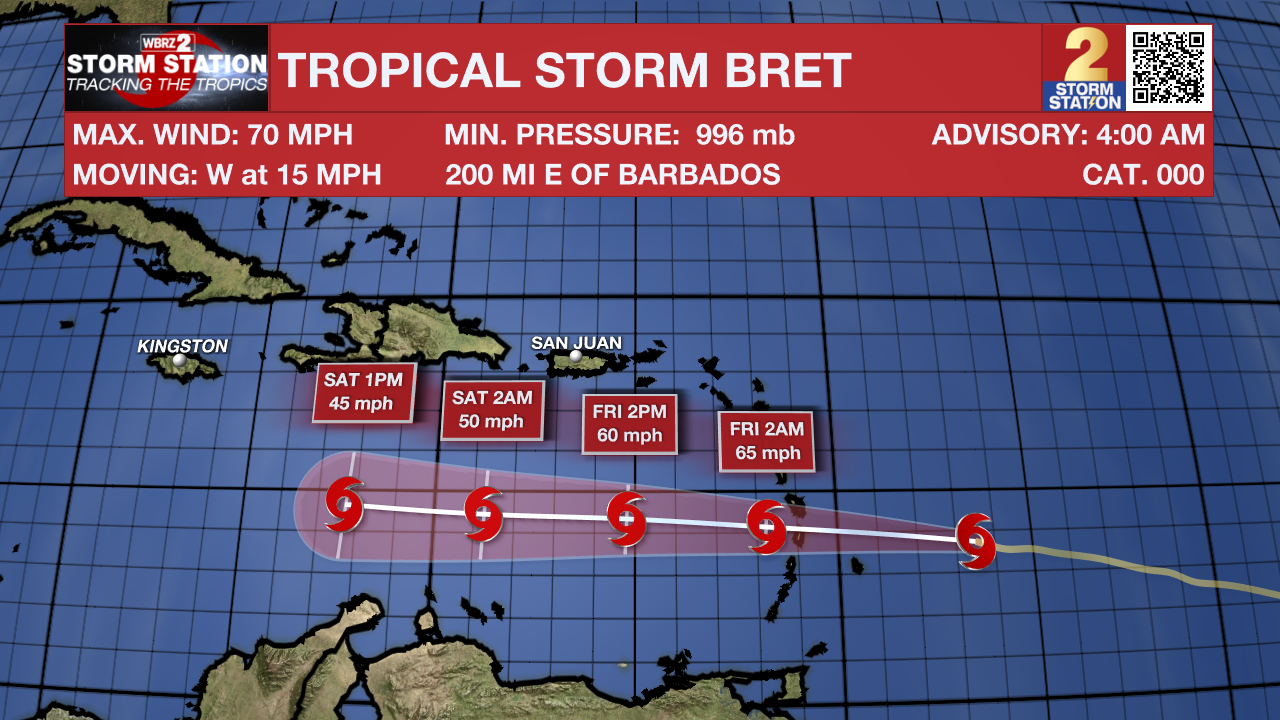 In the eastern Atlantic, Tropical Depression Four formed with the 4am advisory. The storm is moving west at 12mph with maximum sustained winds at 35mph. Tropical Depression Four is expected to intensify into a Tropical Storm by tomorrow morning and will take the C name on the 2023 Hurricane list, Cindy.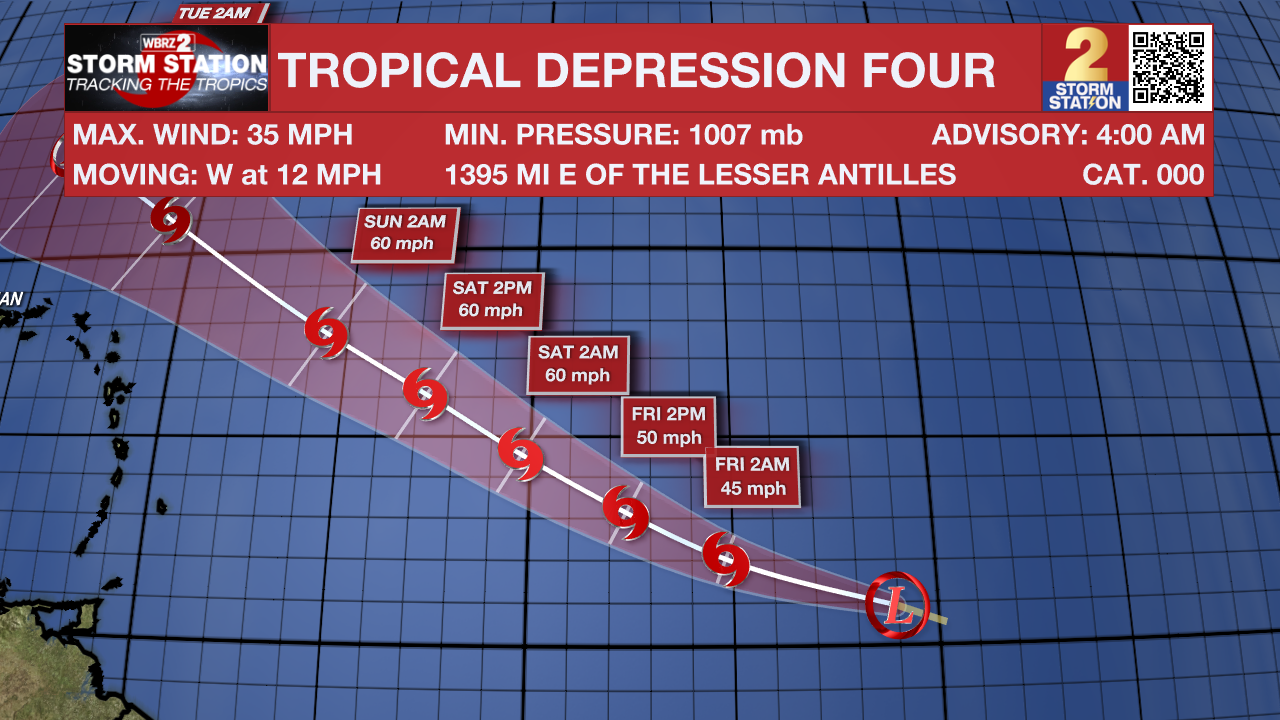 The Storm Station has you covered with hour-by-hour weather tracking is available for your location on the WBRZ WX App on your Apple or Android device. Follow WBRZ Weather on Facebook and Twitter for even more weather updates and unique weather insight from the whole team!
News
Big changes coming over the next couple of days. THE FORECAST Stream LIVE news here. Today &...
More >>