Sex offenders among inmates allowed to leave prison to play in band
Related Story
BATON ROUGE – WBRZ has learned there is an internal investigation into why some of the most hardened inmates at the Dixon Correctional Institute were given trusty status to play music on various occasions in public places recently.
The investigation comes after WBRZ recorded video of the group – made up of 12 inmates, all but three serving time for various violent crimes or sexual offenses – playing at a park, mingling with children and performing at a nursing home over the last several months. The WBRZ Investigative Unit has been documenting the band, following them from one place to the other and was recently threatened for recording the group at a park.
"We made a mistake," warden Jason Kent said, in an interview with WBRZ that aired on the 6 o'clock news Thursday.
Kent acknowledged policies were broken but stopped short of taking full responsibility – claiming a state law allows inmates to be given a status similar to trusty as long as they are accompanied by armed guards.
There were corrections officers with the group at each event. It was one of the guards who was so upset with the Investigative Unit crew for recording video of the band at a back-to-school event recently in the town of Wilson.
"They are a threat to security, [so] you can't film them," guard Anthony Collins fussed when he saw the news crew. Collins said the band couldn't be filmed, swatted at a television microphone then threatened to have other officers remove the television crew.
"I can get that officer over there to ask you to leave," Collins said.
The video recorded at the performance captured inmates interacting with citizens and coming and going from the area freely. One inmate was seen closely visiting with a child.
Before heading to the performance, the inmates – typically classified as "medium security" - were reclassified to the prison's "minimum B" description, or trusty status. The prison's own policy states, though, "inmates can only be reclassified if there's no history of a sex offense conviction, have a release date within 12 years and no felony detainers" - not everyone in the band met those requirements.
At the Wilson event, WBRZ found through public records, some of the band members were sex offenders, a convicted kidnapper and an inmate with a felony hold. Some aren't set to be released until 2040, and others are set to be released even later due to their convictions.
A South Louisiana government watchdog is outraged.
"Disturbing is the word that I would use for this," Rafael Goyeneche, a corruption watchdog said. "People that are members of this band, it looks like to be eligible you need to be a sex offender because most of the people that are on this list were in the penitentiary for sex offenses."
Kent, the Dixon Correctional Institute warden, said after WBRZ began looking into the situation, prisons chief Jimmy LeBlanc said to put a stop to the band's performances. The matter is now under investigation.
But, LeBlanc, the head of the Louisiana Department of Corrections, would not make himself available to discuss the situation. The story about the band is the latest in a series of investigative reports where WBRZ highlighted issues with the state prison system's management. LeBlanc has never agreed to appear on television to discuss the reports.
Instead, Kent was assigned to appear on the WBRZ report. The state said as the warden in charge, he had the most knowledge of the situation.
Kent agreed, the band members should not be changing prison status.
"We should not have done that," he said. "It was not necessary. It was something that had been going on for years... and we're doing an investigation to see what needs to be changed going forward."
Kent said the reclassification dates back to when LeBlanc, his boss, was the warden.
While Kent was open about the band situation, things became bizarre when discussing other issues. Throughout a recent interview, the department's spokesperson, Ken Pastorick, was seen whispering and giving hand gestures to Kent on how to answer questions posed by WBRZ Chief Investigator Chris Nakamoto.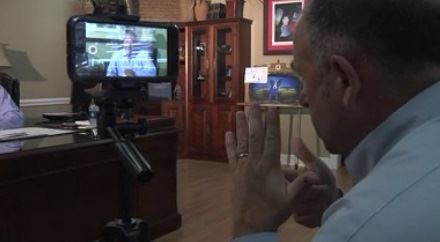 State prisons spokesperson appears to give hand gestures during TV interview recently
Among the pointed questions, was why prison officials allowed for a confusing mix where state law did not match prison policy.
"There's never been an incident before, so I don't see why there would be cause for [concern over conflicting procedures]," Kent said.
"We made a mistake on the classification side of this. It should not have been done."
Goyaneche, of the Metropolitan Crime Commission, is perplexed.
"That's why these rules are in place, to make sure that people who pose a risk to the public, aren't being put in the position where they can further victimize the public," Goyaneche said.
Even the mayor of Wilson is confused after learning of who attended her planned celebration for the school year.
"It would be very concerning," Mayor Marilyn Broadway said. "I'm that type of person where I wouldn't want any violations...anyone to get hurt or anything of that nature to anyone... any students or anyone."
The Department of Corrections did not provide a definitive time frame on when its investigation would be complete or why after agreeing to make LeBlanc available, his underling was the only one cleared for an interview with WBRZ.
News
BATON ROUGE – WBRZ has learned there is an internal investigation into why some of the most hardened inmates at...
More >>