Monday morning video forecast
Related Story
Temperatures will be on the cooler side today with mostly cloudy skies.
THE FORECAST
Today & Tonight: Monday is looking mostly cloudy and cool. Temperatures today will max out in the low 70s. Skies will be mostly cloudy, and a stray shower will be possible later in the day. Tonight, temperatures will be in the upper 50s.
Up Next: You may be able to give your AC a break for a few nights. Tuesday we will see more cloud cover fill in and spotty showers will be possible in the afternoon. High temperatures will be in the low 70s. On Tuesday evening shower activity will pick up along the coast and some of the showers will make their way into the Baton Rouge area. Overnight, the showers will continue to fill in and that will lead us to a rainy Wednesday. Showers will be on and off all day with temperatures capped in the low 70s. These same showers will last into the overnight hours and the first half of the day on Thursday. Overall rainfall totals are expected to be 1-2 inches with isolated higher amounts. Areas further south will see higher rainfall totals. Friday is trending dry with temperatures rebounding into the low 80s. Rain will be back in the forecast for Saturday and Sunday. Stay connected to the Storm Station! Click here to see the 7-day forecast.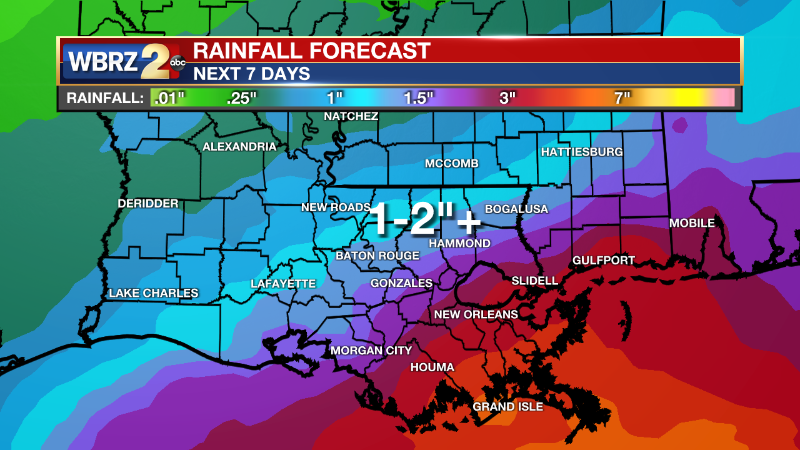 Hour-by-hour weather tracking is available for your location on the WBRZ WX App on your Apple or Android device. Follow WBRZ Weather on Facebook and Twitter for even more weather updates and unique weather insight from the whole team!
News
Temperatures will be on the cooler side today with mostly cloudy skies. THE FORECAST Stream LIVE news here....
More >>