Friday morning video forecast
Related Story
We don't want more rain, and we don't need more rain, but we're going to get plenty more rain. Running an 11.5 inch surplus on the year, the next few afternoons will be quite active thanks to some tropical moisture moving into the area. Because storms will be capable of not only downpours, but frequent lightning, be sure to have an indoor backup plan for your afternoon events. If you can hear thunder, lightning is close enough to strike. Enjoy summer safely!
THE FORECAST:
Today and Tonight: The area can expect high temperatures to climb into the low 90s before showers and thunderstorms develop inland. We can still look for measurable rain in 40 to 50 percent of the forecast area. Of course, as is typical with summer boomers, gusty wind and heavy rain will be possible. Showers may linger into what will be a muggy overnight in the mid 70s.
Up Next: Afternoon action will trend up this weekend due in part to some tropical moisture associated with the remnants of what was Tropical Depression #4. A very moist atmosphere will lead to widespread shower and thunderstorm development during the afternoons. As was the case all week long, an isolated storm or two could drop torrential rain of 1 to 2 inches. Expect big thunder and lightning from a few as well. Temperatures will barely make it to 90 degrees before the action flares. Nights won't necessarily mean an end to the showers and thunderstorms either given the extra energy coming in from the Gulf. There are no signs of the active pattern letting up until at least the middle of next week.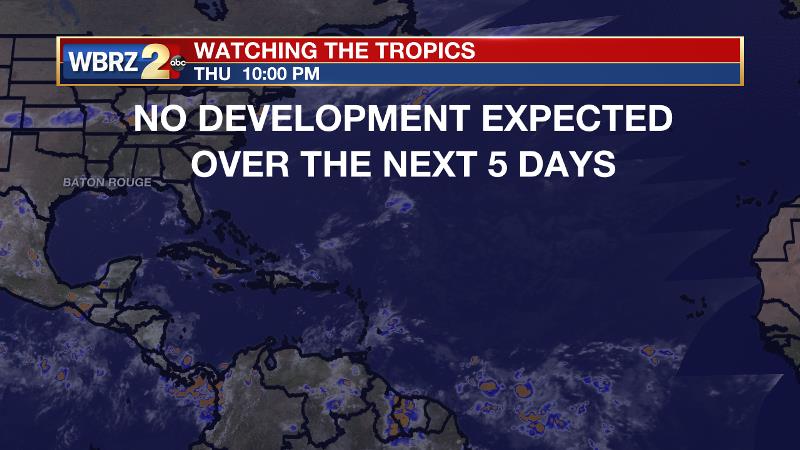 The Tropics: The Atlantic Basin is quiet. No development is expected over the next 5 days.
THE SCIENCE: Not much change is expected to local weather over the next 7 days. Higher than usual shower and thunderstorms coverage will continue through the weekend. Some of these thunderstorms could become rather aggressive on Friday. Several will be capable of producing wind gusts to 40mph. An isolated severe thunderstorm warning may need to be issued by the National Weather Service. Precipitable water values will remain over 2 inches and will actually rise going into the weekend to near while convective temperatures remain easily attainable in the mid 80s. This will aid in the development of widespread activity—especially from the late morning to late afternoon hours. Given the ample moisture fields, thunderstorms will also be able to produce very heavy rainfall. An open tropical wave, the remnants of T.D. #4 will traverse the Gulf over the weekend and leave behind an environment full of moisture through next week. This, along with other ingredients, will keep the diurnal rain process moving along.
--Josh
News
We don't want more rain, and we don't need more rain, but we're going to get plenty more rain. Running...
More >>