Concertgoers duck for cover during Vegas mass shooting
Related Story
LAS VEGAS — Clark County Sheriff Joseph Lombardo says 59 people have been killed and 527 injured in a mass shooting Sunday night at an outdoor country music festival in Las Vegas.

Lombardo also says investigators found 18 firearms, explosives and several thousand rounds of ammunition in the home of suspected shooter Stephen Craig Paddock in Mesquite, Nevada.

The incident was the deadliest mass shooting in modern U.S. history.
Paddock opened fired on a crowd of more than 22,000 concert-goers from his hotel room on the 32nd floor of the Mandalay Bay Hotel and Casino at 10:08 p.m.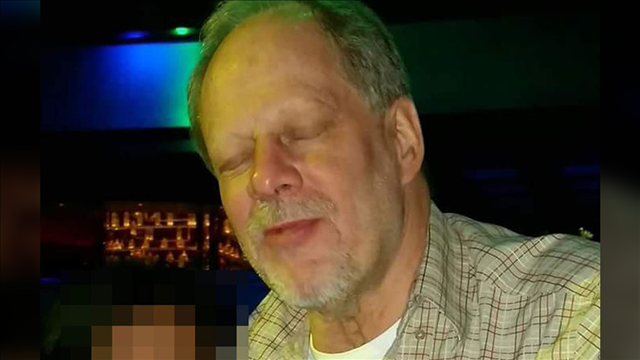 Stephen Paddock
Dozens of patrol vehicles descended on the Strip after authorities received reports of an active shooter near the Route 91 Harvest Festival. Las Vegas police later said one suspect was "down" and they did not believe there were any other shooters.
Concert-goers reported seeing muzzle flashes from the upper floors of the Mandalay Bay Hotel and Casino across Las Vegas Boulevard from the country music festival and the sound of what they described as automatic gun fire.
Twenty-six people were admitted to the hospital, University Medical Center spokeswoman Danita Cohen said. Of those, at least two died, 12 were in critical condition and the rest were being evaluated, she said.
Among the wounded was an off-duty officer from the Bakersfield Police Department in California, the department said. Authorities did not release the name of the officer, who suffered non-life threatening injuries.
Kodiak Yazzie, 36, said he and his girlfriend were watching Jason Aldean's performance when he heard what sounded like fireworks. The music stopped temporarily and started up again before another round of pops sent the performers ducking for cover and fleeing the stage.
Thousands fled as bursts of gunfire could be heard for more than five minutes, Yazzie said.
Jose Baggett, 31, a Las Vegas resident, said he and a friend were in the lobby of the Luxor hotel-casino — directly north of the festival — when people began running. He said people were crying and as he and his friend walked away, they encountered police checkpoints where officers were carrying shotguns and assault rifles.
"There were armored personnel vehicles, SWAT vehicles, ambulances, and at least a half-mile of police cars," Baggett said.
Witnesses said they saw multiple victims and dozens of ambulances near the concert venue. Some attendees later huddled in the basement of the nearby Tropicana hotel-casino.
The Clark County Fire Department estimates that 406 people were transported to area hospitals.
LVMPD SWAT responded to the call, breached the hotel room and found Paddock dead.
Law enforcement say ISIS is not connected to the attack.
In a press conference Monday morning Nevada state officials asked for blood donations, and have set up a gofundme page that has raised over $100k its first three hours.
Authorities shut down part of the Las Vegas Strip and Interstate 15. Flights were temporarily halted at McCarran International Airport because of the shooting, the airport said on its verified Twitter account.
Dramatic video shows people scrambling for cover as gunfire rings out in Las Vegas. "I have to stay on top of you." https://t.co/k2WTD6gM6A pic.twitter.com/5SL3GnhUCQ

— ABC News (@ABC) October 2, 2017
The attack took place during Jason Aldean's set.
Harrowing video of mass shooting during @Jason_Aldean set of #Route91Harvest Festival in #LasVegas. #MandalayBay pic.twitter.com/gaXgDBbZKV

— Evan Schreiber (@SchreiberEvan) October 2, 2017
The city of Vegas is providing numbers for those trying to find loved ones in the area.
City of Las Vegas provides phone number for people looking for loved ones following shooting: 1-866-535-5654. https://t.co/uhZRLjEBkj pic.twitter.com/Q23385MXSH

— ABC News (@ABC) October 2, 2017
President Trump tweeted his condolences after the attack.
My warmest condolences and sympathies to the victims and families of the terrible Las Vegas shooting. God bless you!

— Donald J. Trump (@realDonaldTrump) October 2, 2017
House of Representatives Majority Whip Steve Scalise also tweeted about the attack.
MORE: @SteveScalise: "In the face of unspeakable evil, our whole nation must respond with countless acts of kindness, warmth and generosity" pic.twitter.com/QFQBMLYLSN

— ABC News Politics (@ABCPolitics) October 2, 2017
News
LAS VEGAS — Clark County Sheriff Joseph Lombardo says 59 people have been killed and 527 injured in a mass...
More >>