10pm Forecast
Related Story
A *WINTER WEATHER ADVISORY* goes into effect at 9pm Thursday night through 12pm Friday for East Baton Rouge, West Baton Rouge, Ascension, Iberville, Livingston, Pointe Coupee, West Feliciana, East Feliciana, St. Helena and Tangipahoa Parishes as well as Wilkinson, Amite and Pike Counties. A winter weather advisory means wintry precipitation could cause travel difficulties.
KEY POINTS:
*Snow and sleet ARE NOT a certainty but will be LIKELY on Friday morning.
*IF any accumulations can occur, they will be light, mainly on grassy surfaces. Don't focus on possible amounts, such maps and forecasts vary too often and create confusion. Just be aware of possible impacts.
*Temperatures are forecast to remain above 32 degrees, so icy roads are not anticipated. The only exceptions may be elevated surfaces such as bridges.
*IF snow occurs, visibility or traction could be reduced while driving.
*This is a tricky forecast. As wintry precipitation are rare for the central Gulf Coast, few situations provide precedent for comparison. The borderline of rain and snow, such as the Baton Rouge area in this case, is often where big forecast busts occur. It is better to approach a snow forecast in probabilities rather than definitives. Here are the scenarios based on a 75 percent chance of happening (most likely), 50 percent chance of happening (possible), and a 25 percent chance of happening (least likely).
Evening snow chances from @NWSWPC still show most likely scenario of coating to an 1", but possibility of up to 2" in some places | #BatonRouge #LaWX #MsWX pic.twitter.com/mqoTbAEXKQ

— Josh Eachus (@JoshEachus) December 8, 2017
THE FORECAST:
Today and Tonight: Today will be another raw one, with mostly cloudy skies, occasional showers and high temperatures remaining in the mid 40s. North winds of 5-10mph will keep an additional chill in the air. The fun part of the weather forecast comes in discussing tonight. Forecast models have been persistent in suggesting that rain will mix with or change to snow and sleet for areas along and north of a Lafayette to Ponchatoula line, including Baton Rouge. Some suggest snow as far south as Assumption Parish. The major question is if whether or not moisture will remain as the atmosphere becomes cold enough to support snow. If the changeover occurs, northern areas like southwest Mississippi and neighboring Louisiana Parishes would have the best chance of accumulations--especially on grassy and elevated surfaces. The window of opportunity for wintry precipitation appears to be 3am - 9am. The overnight low temperature is expected to be in the mid 30s. This is significant for two reasons. First, 32° is NOT needed for snow to fall. Second, as long as the temperature remains above 32° any rain, sleet or snow will not freeze to the road and create ice. Still, should this system produce a round of white stuff, slushy roads could occur and visibility could be reduced if snow is falling.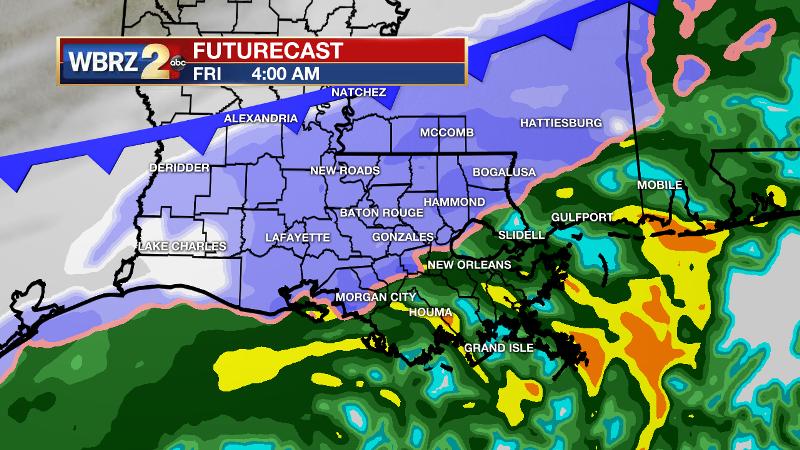 Should you see any wintry precipitation, send photos to weather@wbrz.com or tweet them to @WBRZweather! Be sure to include your location and the time of the photo!
Up Next: Any drops, ice pellets or flakes will wrap up on Friday morning from west to east. Even if skies are able to clear a bit late, highs will stay in the 40s. A really chilly night will follow with lows going below freezing for the first time this season in Baton Rouge and some neighboring areas. The weekend will be generally clear with highs in the mid 50s and lows in the low to mid 30s. Slightly warmer afternoons are ahead for next week as a drier pattern holds.
The Explanation: An upper level trough axis will dig south to help deepen a positively tilted longwave trough in the Eastern U.S. By Thursday afternoon a jet streak will pass through the basin of the trough moving from Texas to Alabama by Friday morning. Thanks to the digging trough and yet another spoke of energy, a cold front will dive south and push through the region on Thursday night. Like Wednesday, a cold "overrunning" rain scenario will prevail on Thursday. Freezing levels will simply be too high for anything but liquid and possibly an isolated ice pellet or two during the day. Major computer models develop a broad surface low pressure over the western Gulf and show it pushing across the area Thursday evening about the same time as that reinforcing front. At this time, freezing levels may drop just low enough along and north of a line from Baton Rouge to Amite City allowing precipitation to end as some snow in those areas on Friday morning. A coating of snow is *possible* on elevated surfaces, but possible is the operative word— moisture could exit before it is cold enough to snow. The upper level trough axis will push east of the area by Friday afternoon allowing precipitation to end. However, this broad trough will dominate the Eastern U.S. through the weekend and therefore so too will below average temperatures. Many areas across the northern half of the forecast area will experience morning lows in the 30s Friday through next Wednesday. Freezing, the first of the season, will be possible for many north of I-10 on Friday night.
--Josh
The WBRZ Weather Team is here for you, on every platform. Your weather updates can be found on News 2, wbrz.com, and the WBRZ WX App. on Apple and Android devices. Follow WBRZ Weather on Facebook and Twitter for even more weather updates while you are on the go.
Here is the latest from @WBRZweather on Twitter:
News
A *WINTER WEATHER ADVISORY* goes into effect at 9pm Thursday night through 12pm Friday for East Baton Rouge, West Baton...
More >>
Desktop News
Click to open Continuous News in a sidebar that updates in real-time.