Woman posts heartfelt plea for driver who killed her dog
CENTRAL - A pet owner is taking to social media to make a desperate plea to the person who struck and killed her dog over the weekend.
Mindy Ann Patteson shared her story on Facebook Tuesday morning.
She says her dog got loose sometime Saturday. When she found him, he was on the side of the road in front of her home. He was dying from an apparent run-in with a car, but the driver was nowhere in sight.
"Several good Samaritans stopped to try to help him. He was trying to crawl back home," Ann's post read.
They loaded the dog into the back of an SUV and tried to rush him to an animal hospital, but he died before they arrived. She says they brought him home and buried him in the middle of the heavy rain Saturday.
Instead of showing contempt for the person who fatally wounded her family pet. Ann is simply passing on a message which she hopes will find its way to the driver.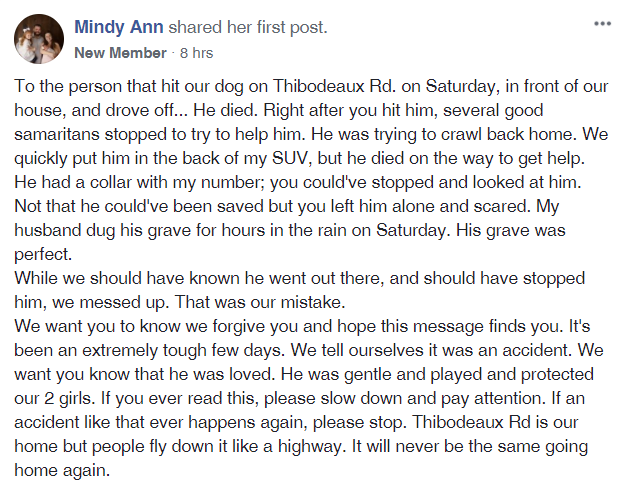 "We want you to know we forgive you and hope this message finds you," Ann said. "If you ever read this, please slow down and pay attention. If an accident like that ever happens again, please stop."
Ann says the dog was gentle and used to protect her family, adding that going home will "never be the same".
More News
Desktop News
Click to open Continuous News in a sidebar that updates in real-time.