UPDATE: Harvey to make third landfall Wednesday
Click HERE to watch a live update from Governor Edwards on Tropical Storm Harvey.
Tropical Storm Harvey will continue to spin in the northwestern Gulf of Mexico with very little movement through Tuesday. The track has actually shifted closer to the Baton Rouge area; however, this has not caused significant changes to the rain forecast, however; wind will pick up on Wednesday. A third and final landfall is expected near the Texas/Louisiana border on Wednesday morning. A *TROPICAL STORM WARNING* has been posted for St. Mary Parish where 1-3 feet of storm surge and winds gusting over 50mph are expected. A *TROPICAL STORM WATCH* has been posted for Assumption Parish as winds could gust to 50mph on Wednesday. Additionally, coastal flood advisories are in effect for the shores of Lakes Maurepas and Pontchartrain due to tides running 1-2 feet above normal.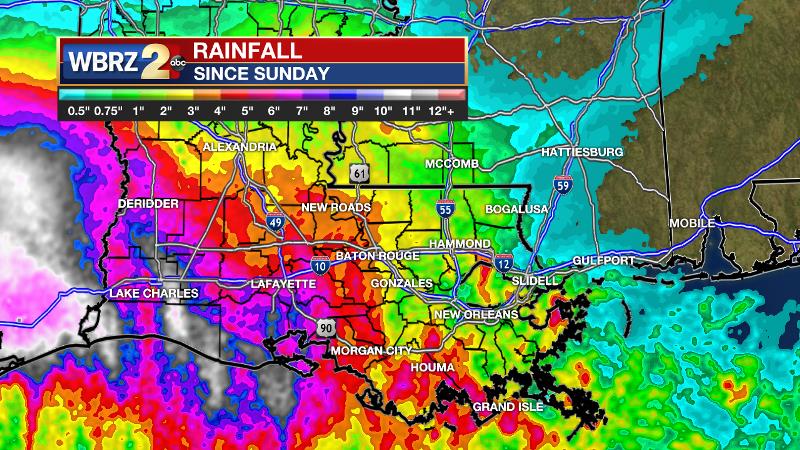 2-5 inches of rain has fallen so far, and an additional 2-5 inches is expected through Friday. The *FLASH FLOOD WATCH* will continue through Thursday.
In addition to heavy rain, isolated storm cells could produce brief tornadoes. The Storm Prediction Center has issued a slight risk of severe thunderstorms for areas along and south of I-12.
THE FORECAST:
Today and Tonight: Showers and thunderstorms are expected across the forecast area on Tuesday, especially early. Rainfall rates will be intense, so where heavy bands of precipitation persist, some localized flash flooding may occur. This will primarily be with regard to smaller drainage basins and streets prone to flooding. The dreary conditions will yield another day with temperatures struggling for 80 degrees. The overnight hours should not be nearly as active with cloudy skies, spotty showers and lows in the low 70s.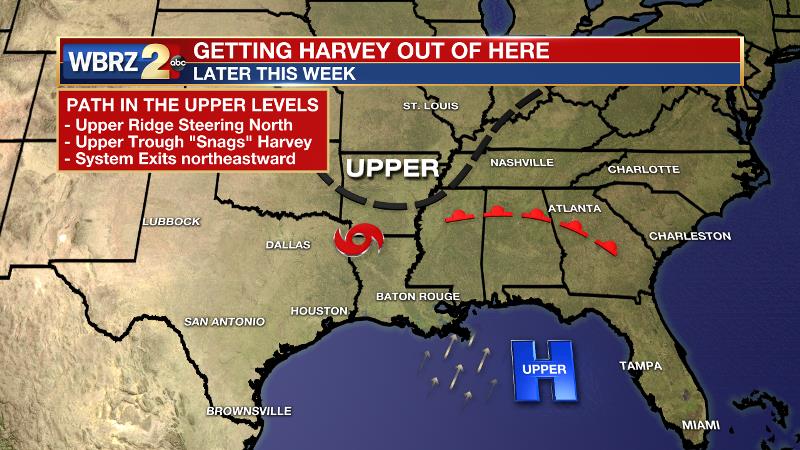 Up Next: Alas, on Wednesday, Tropical Storm Harvey will begin to make a considerable jaunt northward. With a ridge in the eastern Gulf and a trough in the Upper Midwest, steering winds will finally snare the tropical system into the jet stream. At the same time, some dry air in the mid levels of the atmosphere will begin to reduce hourly rainfall rates. Overall, rain coverage should trail off but the pattern will remain fairly active by seasonable standards. A greater drop in rain production is expected on Thursday and Friday with just scattered showers and thunderstorms. By the weekend, the Baton Rouge area should fully return to a typical late summer pattern of isolated afternoon showers and thunderstorms.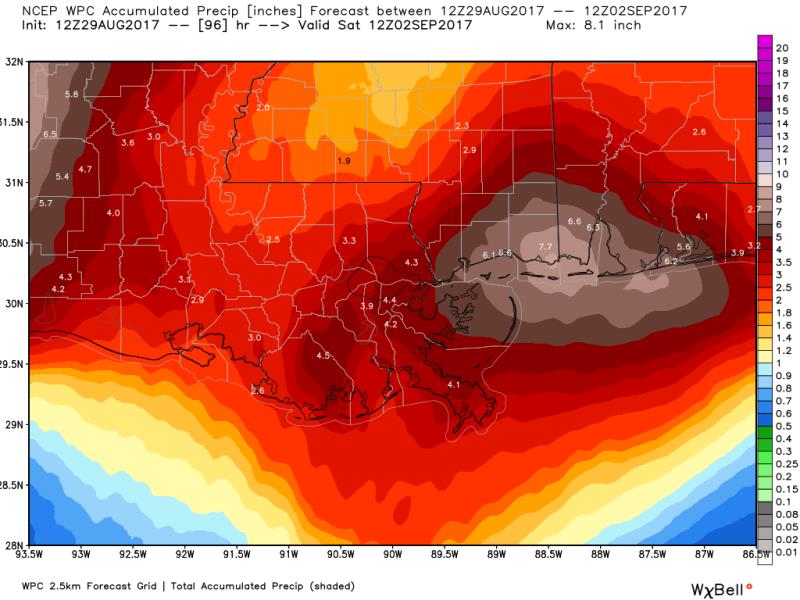 Through Friday, the Baton Rouge area can expect an additional 2 to 5 inches of rain with storm totals (8/26 – 9/1) amounting to 4-7 inches and isolated higher amounts—as initially forecast last week. The lowest totals will occur north of I-12, over southwest Mississippi and the neighboring Louisiana parishes. The highest totals will be southwest of Baton Rouge over the Atchafalaya Basin. Some isolated storm totals near 10 inches will be possible in St. Mary and Assumption Parishes.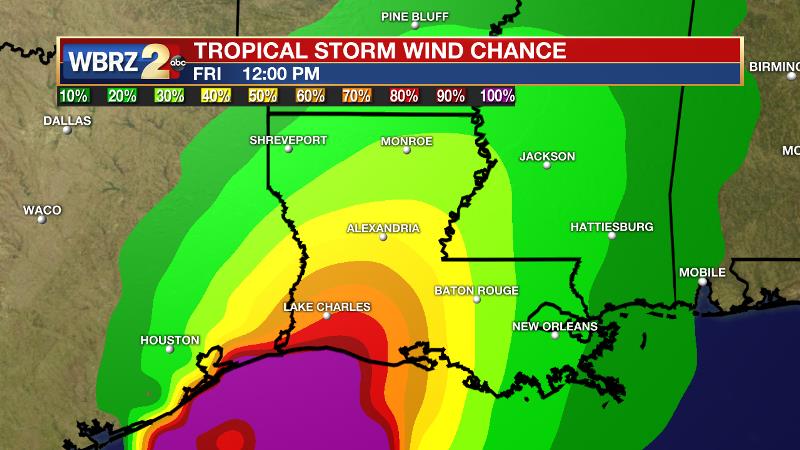 An addition to the forecast is wind. Since the low pressure center of Harvey will pass closer to the Baton Rouge area, east winds of 15-20mph can be expected Wednesday into Thursday. Some gusts up to 40mph, which is tropical storm force, are possible--especially west of the Mississippi River.
At this time, and given the projected additional rainfall, no rivers are expected to crest above flood stage. However, depending on the placement of those persistent, heavy rain bands—which cannot be predicted, that could change. Therefore, you should continue to pay close attention to the forecast, at least until more appreciable breaks in the precipitation begin to occur on Thursday.
As this remains an unusual storm, closely monitor the forecast this week. Plan to get frequent updates from the WBRZ Weather Team on News 2, wbrz.com, Facebook, Twitter and the WBRZ WX App. on Apple and Android devices. As always during hurricane season, stay prepared and review plans.
More News