Tuesday PM Forecast: challenging records, missing rain
To end the workweek, the heat dome will dominate. Many record high temperatures could be broken and the building drought will mean critical fire conditions continue.
A ***RED FLAG WARNING*** will be in effect on Wednesday. Dry conditions, hot temperatures, low humidity and persistent breezes will lead to critical fire weather and burning should be avoided at all costs.
An ***EXCESSIVE HEAT WARNING*** will be in effect on Wednesday. Hot temperatures in the 100s will pair with enough humidity to create feels-like temperatures over 113 degrees. Remain hydrated and don't overexert outdoors.
Tonight & Tomorrow: Overnight will feature mostly clear skies with low temperatures in the mid to upper 70s. Wednesday will be mostly sunny and hot with high temperatures topping out at 106 degrees. Should Metro Airport meet this mark, it will be the highest temperatures ever measured there, where data stretches back to 1930. CLICK HERE to take a look at 11 lists of records that put this summer heat into perspective. In addition to the hot temperatures, ongoing drought with a easterly wind of 5-10mph will keep a fire danger in place.
Up Next: Thursday through Sunday, mornings will start in the upper 70s. Afternoons will be mostly sunny with high temperatures surging into the 100 – 105 degree range. Several afternoons are expected to flirt with all-time record high temperatures for Metro Airport. That mark stands at 105 degrees, set on Saturday and Sunday afternoons as well as on August 30, 2000. Humidity may not be quite as high as previous weeks, but the air temperatures will compensate for this to cause feels-like temperatures over 113 degrees. There may be a slightly better chance of showers and thunderstorms popping early next week, but this has been a trend toward the end of the 7-Day Forecast all summer that has backed down as we've moved closer.
---
Get the latest 7-day forecast and real time weather updates HERE.
Watch live news HERE.
---
The Tropics: Tropical Storm Harold made landfall in Padre Island, Texas on Tuesday morning. As a weakening depression, the storm will produce another 1-3 inches of rain across southeast Texas with some localized flash flooding possible through Wednesday. The storm will dissipate soon after.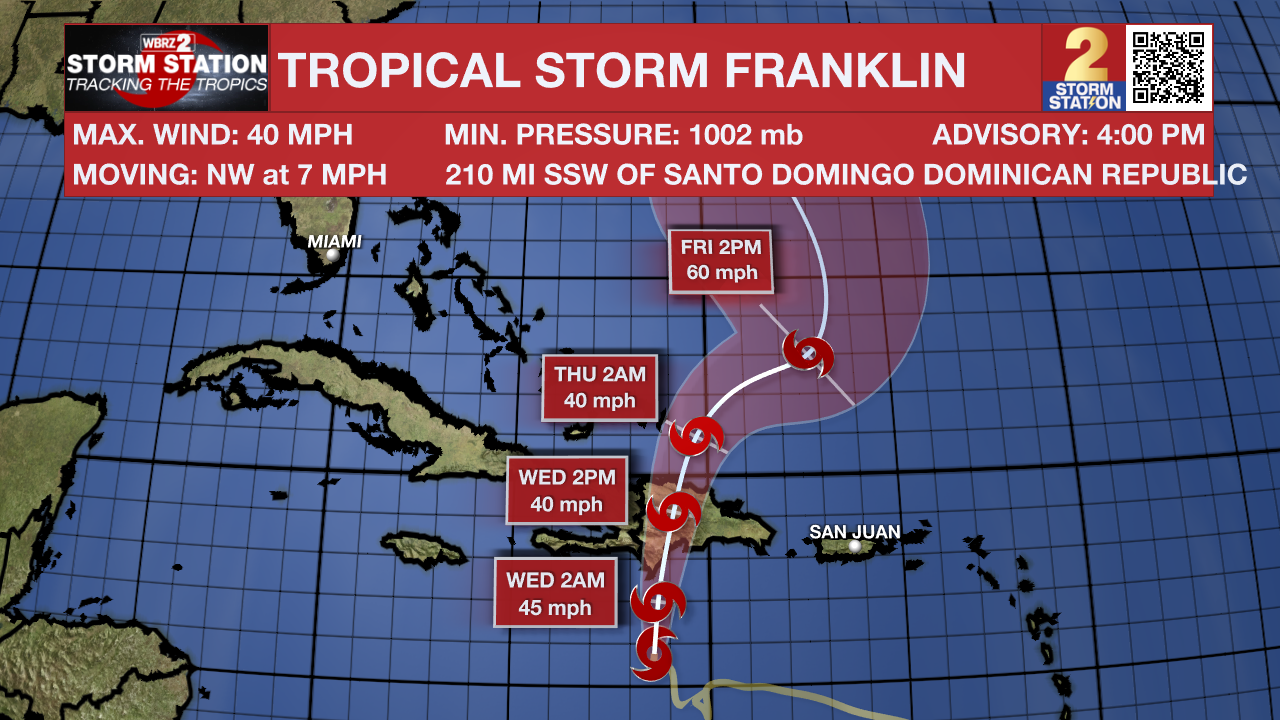 Tropical Storm Franklin was moving northwest through the eastern Caribbean Sea on Tuesday afternoon. With maximum sustained winds of 50mph, the system will cross Hispaniola into Wednesday before emerging in the southwest Atlantic Ocean. Heavy rain will be a threat across Hispaniola and Puerto Rico through Thursday. The future of the storm is less certain and will depend on land interaction across the islands.
Two other tropical disturbances in the eastern Atlantic Ocean are given a medium chance of formation over the next seven days. They pose no threat to land.
--Josh
The Storm Station is here for you, on every platform. Your weather updates can be found on News 2, wbrz.com, and the WBRZ WX App on your Apple or Android device. Follow WBRZ Weather on Facebook and Twitter for even more weather updates while you are on the go.
More News