Trucker implicated in pileup, death of 5-year-old booked into jail
PORT ALLEN – A small child has died days after a five to seven-vehicle pileup on I-10 in West Baton Rouge, according to authorities.
The West Baton Rouge Sheriff's Office says 5-year-old Xander Cruz died Thursday morning, days after the crash on I-10 East just before the Mississippi River Bridge. The crash crushed at least two cars and involved at least two tractor-trailers.
> NEW: Family shares story of boy's life, his dream to be a 'hero' and why they have opted to make him an organ donor. CLICK HERE for more.
The out-of-state driver who rear-ended the initial vehicle, causing the chain-reaction crash, has been identified as 43-year-old Yasin Ibrahim. The sheriff's office says Ibrahim will be charged with negligent homicide, negligent injuring and careless operation. Yasin Ibrahim was booked into jail Friday morning on the new charges. He bonded out Friday evening.
Seven people were rushed to area hospitals Tuesday, some needing transport by numerous Acadian Ambulance helicopters. Cruz was the most severely injured of the victims and was placed on life support following the crash. The sheriff's office confirmed his death early Thursday afternoon.
On Tuesday, the severity of the injuries boiled over when mixed with authorities' frustrations of having to constantly deal with serious crashes at the I-10 choking-point coming into Baton Rouge.
"Until we get this bridge fixed, until they stop I-10 from being reduced from two lanes to one lane, this is going to continue to happen," said Lt. Ken Albarez, the top traffic cop on the west side of the Mississippi. Albarez was visibly annoyed with the situation when he spoke to WBRZ on the scene of the crash Tuesday.
Wednesday, Albarez remained annoyed that leaders had not made the I-10 gridlock a priority. I-10 East becomes one lane two miles from the crash as it merges with southbound lanes of I-110. Like a clogged artery, the lifeblood of the interstate comes to nearly a stop during rush hours there - the only spot in the country where I-10 is one lane.
Joking on the phone with WBRZ Wednesday morning, Albarez suggested cutting I-110 Southbound to one lane to let lawmakers feel the impact when leaving the capitol.
At the crash scene Tuesday, authorities had to use special equipment to cut many of the injured from the wreckage.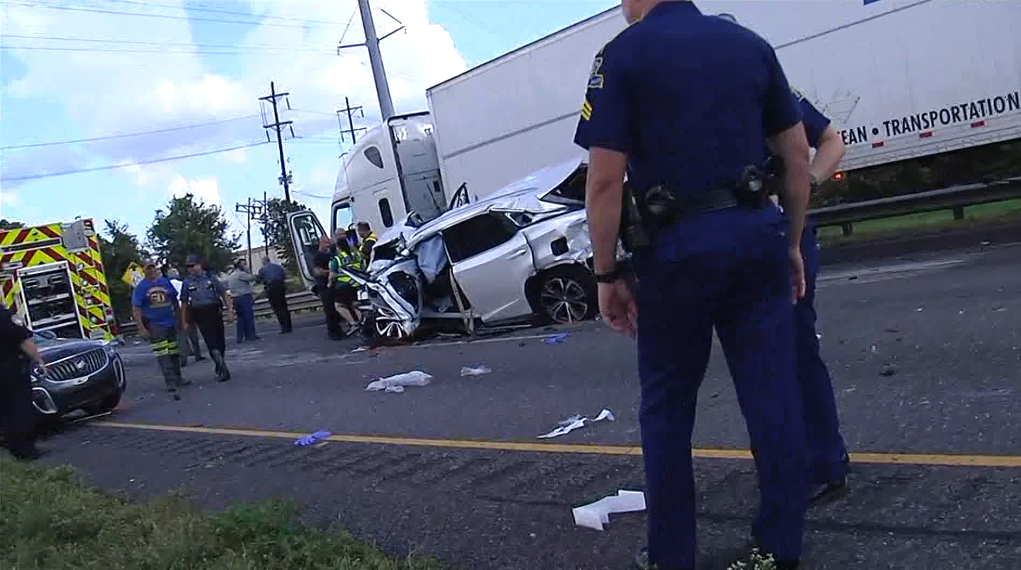 The crash occurred near the I-10/LA 1 exit before crossing the river. Both directions of I-10 were closed between the river and La. 415 because of the crash for a portion of Tuesday evening.
Related Stories
More News
Desktop News
Click to open Continuous News in a sidebar that updates in real-time.