Tropical air mass to fuel scattered thunderstorms
An active weather day is ahead as ample Gulf moisture and a weak disturbance will combine to produce scattered showers and thunderstorms.
THE FORECAST:
Today and Tonight: Despite mostly cloudy skies, high temperatures will reach the mid to upper 80s in most locations. A tropical air mass will cause it to feel much warmer than readings on thermometers. That humid air mass will also aid the development of scattered showers and thunderstorms through the day. The most active period should come during the late morning to late afternoon hours thanks to daytime heating. This could cause some delays in afternoon drive time. Measurable rain is expected for more than 60 percent of the 13 Parish, 3 County forecast area. Spotty showers will remain possible overnight with low temperatures in the mid 70s.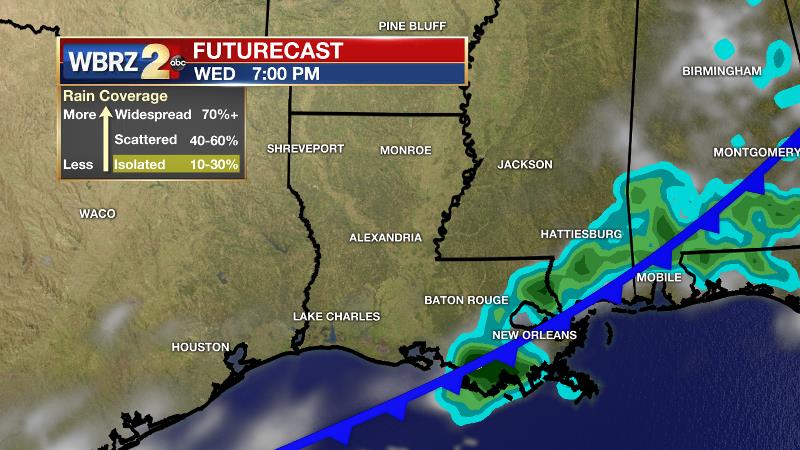 Up Next: Tuesday will bring another chance of showers and thunderstorms, as a cold front moves into the region. Now earlier last week, we mentioned that this front was going to make it feel a little more like fall, but unfortunately with the passage of Nate through the area, warmth and moisture has surged across our area. That means that the drop in temperatures from this cold front will be dampened. High temperatures Wednesday through Sunday will remain in the 80s, while lows only drop to the mid 60s at best. Humidity may come down just a little. Mostly clear skies are expected through the weekend.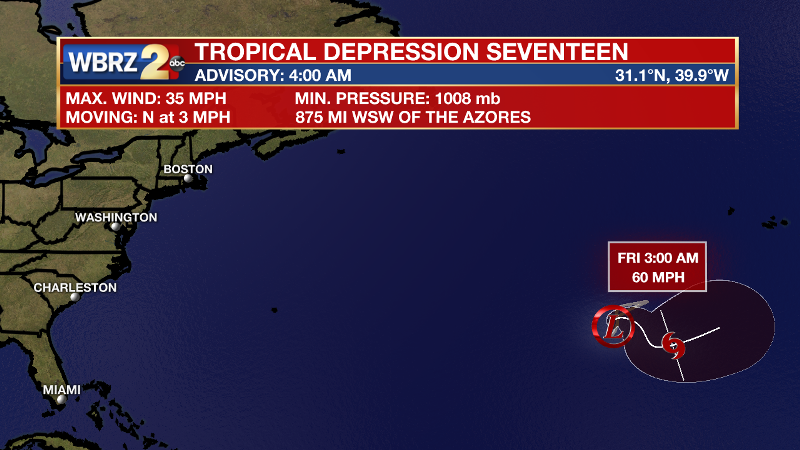 The Tropics: Nate is long gone after bringing minimal impact to the Baton Rouge area as expected. It is still hurricane season though and yet another storm has developed in the eastern Atlantic Ocean. Tropical Depression 17 is located 875 west, southwest of the Azores. With maximum winds of 35mph the system is drifting north at 3mph and will not go far. Fortunately this one will likely stay out to sea as a tropical storm, named Ophelia.
THE EXPLANATION:
Monday will end up being the most active of the 7-Day forecast. Deep southerly flow is transporting tropical moisture to the central Gulf Coast. With southwesterly winds aloft and a weak mid-level disturbance in the western Gulf, scattered showers and thunderstorms will be able to break out, increasing through the day as more heat energy becomes available. A cold front will slide into the region Tuesday as an upper level low moves eastward across the nation's midsection. Since an upper level ridge will remain over the eastern United States, this front will have a difficult time fully pushing through the area and will essentially be decaying as it moves through. The front interacting with tropical moisture will be enough the keep scattered showers and thunderstorms around on Tuesday, but then drier air aloft will begin to shut rain down on Wednesday. Expect well above average temperatures Thursday through Sunday as that ridge dominate the Southeast. Highs will be able to climb into the upper 80s with a few isolated readings of 90 degrees possible. The slightly lower humidity will result in low temperatures in the mid to upper 60s.
--Josh
More News