Sunday service held outdoors at church damaged by car crash
BATON ROUGE- Sunday service was held outdoors at Greater Saint Michael Baptist Church.
A police chase ended when a car crashed into a church Friday morning, but that didn't stop church officials and congregants from gathering on Sunday.
Reverend Melissa Dunn Davis, pastor of Greater St. Michael Baptist Church said, "I'm not going to ever, no matter what nobody says, shut the doors of Greater St. Michael."
Davis told WBRZ that the building posed as too much of a danger to allow the congregation inside.
"The doors maybe closed, but outside ain't closed," church member Olia Marshall said.
Officials say the driver of the vehicle that crashed into the church Friday was a 15-year-old female. She has since been arrested. A court summons has been issued for two adults that were in the vehicle at the time of the crash for contributing to the delinquency of a juvenile.
Sources say the pursuit started at Claycut and Foster, and ended at North 37th Street and Gus Young Avenue.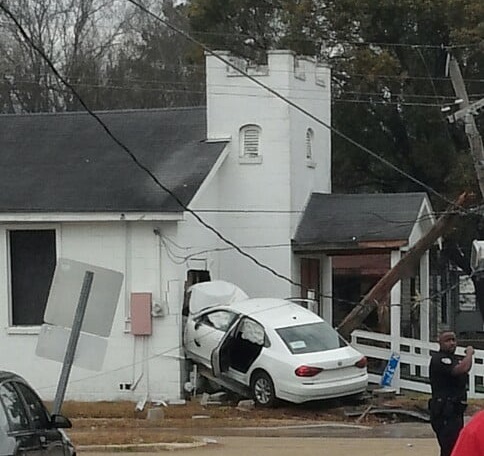 The vehicle hit utility pole and a fire hydrant before crashing into Greater Saint Michael Baptist Church. Entergy says about 100 homes in the area were without power.
More News