Single digit wind chills, frozen precip. prospects
While the week will begin with slightly milder air, a major cold blast will bring temperatures rivaling that of early January for the middle of the week. There will be a brief window of opportunity for wintry precipitation, but due to the light and isolated nature of it, no impact is expected.
---
WATCH a Facebook LIVE Briefing on the wintry blast with Chief Meteorologist, Dr. Josh Eachus. CLICK HERE.
---
THE FORECAST:
Today and Tonight: Monday will mislead us into believing a warming trend is underway. With ample sunshine, high temperatures are expected to climb into the upper 50s. A few locations south of I-10 could even snag 60 degrees. Winds will be light and easterly. Overnight, cloud cover will thicken as a cold front approaches from the north. Low temperatures will hover just above freezing.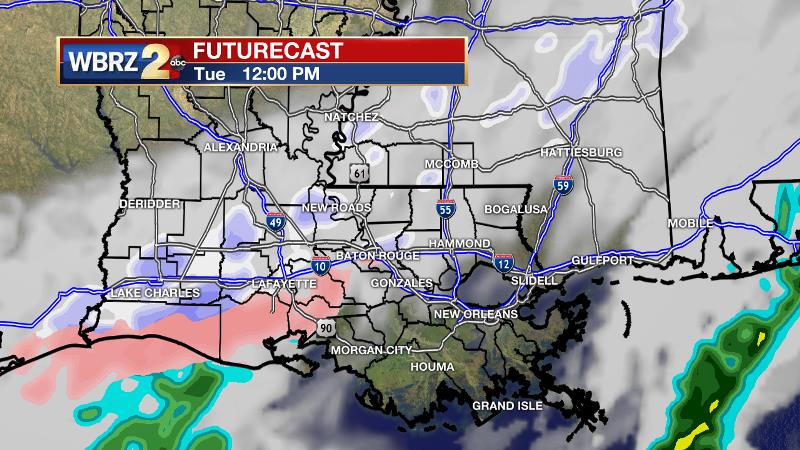 Wintry Blast: As a cold front pushes through the area on Tuesday, temperatures are expected to fall. In fact, a high in the low 40s is likely to occur in the morning hours, before thermometers fall into the 30s through the day. Precipitation output is expected to decrease as the cold front nears the Gulf of Mexico. Therefore, only isolated rain showers are anticipated. As the temperature drops, there will be a window of opportunity for any rain showers to transition over to frozen precipitation—snow and sleet. However, given the isolated and light nature of the precipitation, it is important to note that impacts will be minimal. It is possible that not all locations will even experience precipitation and little to no snow or sleet accumulations are expected for those areas that do. As per usual, the best chance of seeing any snow or sleet will be in southwest Mississippi and neighboring Louisiana parishes where the cold air arrives earliest. The "worst case scenario" presented by the Weather Prediction Center, in other words the scenario that has a 5 percent or less chance of occurring, shows up to one inch possible along and north of I-12. The mostly likely scenario, is no accumulation for any locations along and south of I-12 and possibly a coating in southwest Mississippi.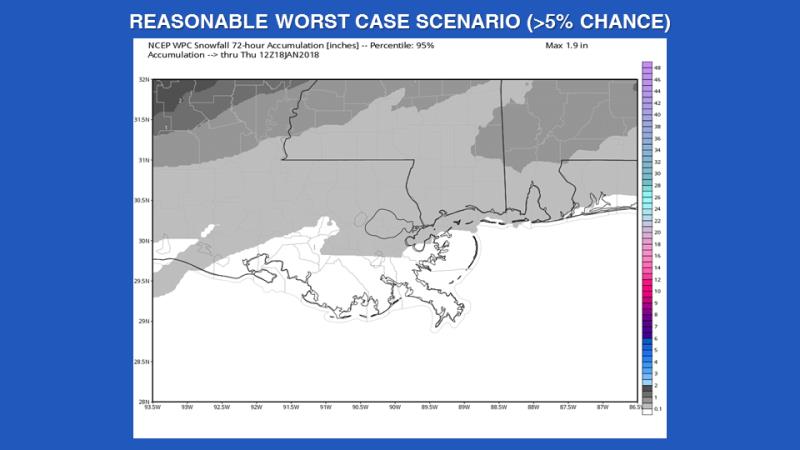 Low temperatures will tumble all the way to the low 20s and possibly upper teens by Wednesday morning. With north winds of 10-15mph, dangerous wind chills will produce feels like temperatures in the single digits. Expect hard freeze warnings and wind chill advisories to be posted by the National Weather Service. High temperatures will fail to leave the 30s on Wednesday followed by another brutally cold night into Thursday.
Up Next: Unlike the cold stretch in early January, this spell will be shorter lived. By the weekend, high temperatures will return to the upper 60s with the possibility of showers and thunderstorms. Low temperatures will be in the 50s.
THE EXPLANATION:
Zonal flow in the upper levels of the atmosphere will allow temperatures to modify into the middle to upper 50s today. Skies will remain clear as very dry air lingers over the Gulf South. Tonight, a strong Canadian cold front will dive south into the Mid-Mississippi River Valley. An increase in mid and high levels clouds can be expected at first and temperatures will be several degrees warmer than Monday morning as mid-level winds turn southwesterly. The strong cold front will progress across the forecast area on Tuesday. The high temperature forecast is difficult. Once the front arrives, thermometers will stop climbing. If this occurs earlier in the day, it is possible that readings will not escape the 30s. Thermometers will fall during the afternoon and evening hours. Precipitation is expected to be dissipating as the cold front pushes through the 13 Parish, 3 County forecast area. Therefore, only isolated showers are expected and any precipitation will be very light with liquid values below 0.05 inches. Most of the precipitation is expected to fall as rain, but areas in southwest Mississippi may see a light wintry mix early Tuesday morning and again early Tuesday evening. No accumulation of ice or snow is expected. Closer to the I-12 corridor, a very brief period of changeover from rain to a light wintry mix could occur Tuesday afternoon for a couple of hours. Again, no accumulation is expected given the very light nature of the precipitation. By late evening, any precipitation chances will push offshore, and skies will begin to clear from north to south. Temperatures will cool dramatically and expect to see lows in the upper teens and 20s across the forecast area. Breezy conditions will create wind chills in the single digits and teens. The heart of the cold pool will be over the area Wednesday and the subsequent night will be the coldest of the forecast period. Overnight lows should easily dip back into the upper teens and 20s. The overall weather pattern will transition back to a more seasonal feel Thursday afternoon through the weekend. A series of fast moving and weak low pressure systems will move across the Gulf South. The first of the shortwave troughs will pass through the Gulf South Friday and Saturday. The system will weakening as it moves through and only expect to see isolated showers form Friday through Saturday night. Skies will remain mostly cloudy and periods of fog will be possible as warmer air moves over cold Gulf and lake waters. A more vigorous trough is expected to pull out of the Four Corners and take on a slightly negative tilt Sunday. An associated cold front will race across the area Sunday night. Rain will be likely from this system with a few thunderstorms too. At this time, parameters do not look overly imposing for severe weather but given the time of year and orientation of the upper level features, we will need to monitor this system.
--Dr. Josh
The WBRZ Weather Team is here for you, on every platform. Your weather updates can be found on News 2, wbrz.com, and the WBRZ WX App. on Apple and Android devices. Follow WBRZ Weather on Facebook and Twitter for even more weather updates while you are on the go.
The latest from @WBRZweather on Twitter:
More News
Desktop News
Click to open Continuous News in a sidebar that updates in real-time.