National champion LSU Tigers visit the White House - Watch it here
WASHINGTON - The LSU women's basketball team visited the White House Friday, celebrating their national title win alongside President Joe Biden.
The president, vice president and first lady took turns congratulating the Tigers before handing off the microphone to Coach Kim Mulkey.
"I came back to the state of Louisiana to be a positive. Little did I know that I would get to coach this group of people. They came to our state, and you are looking at the finest our state has to offer," Mulkey said.
Mulkey later called on Angel Reese and Emily Ward to present President Biden and First Lady Jill Biden with custom jerseys labeled "POTUS" and "FLOTUS".
The celebration was temporarily halted during the president's speech after LSU's SaMyah Smith collapsed. Smith was able to get back on her feet and was taken away to be checked by paramedics as a precaution.
"Sa'Myah is fine, for those of you who are concerned. Sa'Myah is fine, I'll assure you of that," Mulkey said.
Smyah Smith passed out but is back on her feet now. pic.twitter.com/zMHw47QQht

— Michael Cauble (@Cauble) May 26, 2023
Coach Mulkey on Thursday also accepted a special gift from the Louisiana congressional delegation as her Tigers team began a two-day visit to Washington. Shortly after they arrived in Washington, Mulkey and her players were presented the American flag that flew over the U.S. Capitol on the day they won their title.
U.S. Rep. Steve Scalise wore an LSU football jersey as he did the honors.
The team loaded up the bus in Baton Rouge before dawn, headed to the airport for a charter flight that landed in Baltimore later Thursday morning. They boarded a new set of buses there for the short drive to Washington.
LSU President William Tate told WBRZ that the past couple of months have been a whirlwind of activity for the team.
"What's amazing to me is they never stop," he said. "So you win a national championship, and they're back training, back in school, and doing what they're supposed to be doing.
"It's a big thing, and I'm excited to be in DC with the women's basketball team."
Watch WBRZ for continuing coverage from Sports Director Michael Cauble, who is in Washington for the duration of the Tigers' visit.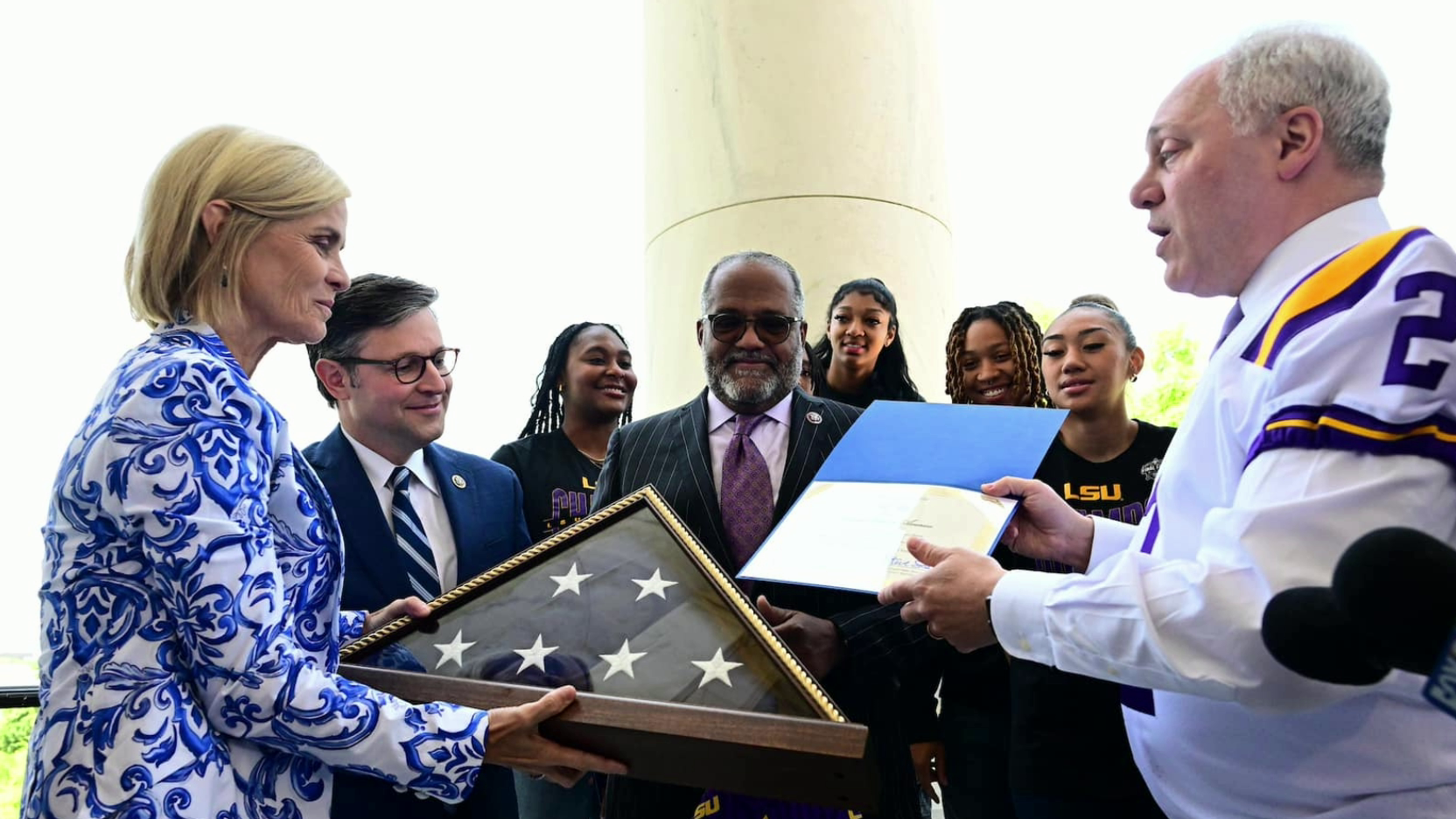 More News