Drying Out, Then Wet Again
The Next Few Days:
The chance of showers will significantly decrease by middle to late morning, and that will leave us with mostly overcast skies in the short term, but a fast eroding cloud deck could mean that we might experience some measure of sunshine before sunset. The last few days have brought unseasonably warm temperatures, and that will not change much over the next three days as high temperatures are expected to climb to the middle 70s. Warm December temperatures are odd, but not totally unheard of for south Louisiana as we have been at or near the 80 degree mark for the two previous Christmas days in 2015 and 2016. However, it now appears that the warmth will not spill over into Christmas Day 2017.
Expect skies to clear out in the overnight hours on Wednesday allowing temperatures to fall to the low 50s and possibly 40s in some northern locations. A full day of sunshine is expected for Thursday and a small amount of cooler air will make it's way into south Louisiana tonight, but it won't be enough to keep temperatures from rising into the middle 70s for Thursday highs. A quick rebound of moisture from the Gulf of Mexico will have us under the threat of rain once again on Friday, and that appears to be leading into what will potentially be a soggy pre-Christmas weekend. The best chance for rain, at this point, appears to be on Saturday as temperatures finally begin to return to historical averages. Check out Dr. Josh Eachus' Christmas forecast on what to expect for Christmas Eve and Christmas Day.
http://www.wbrz.com/news/christmas-weekend-weather-forecast-becoming-clearer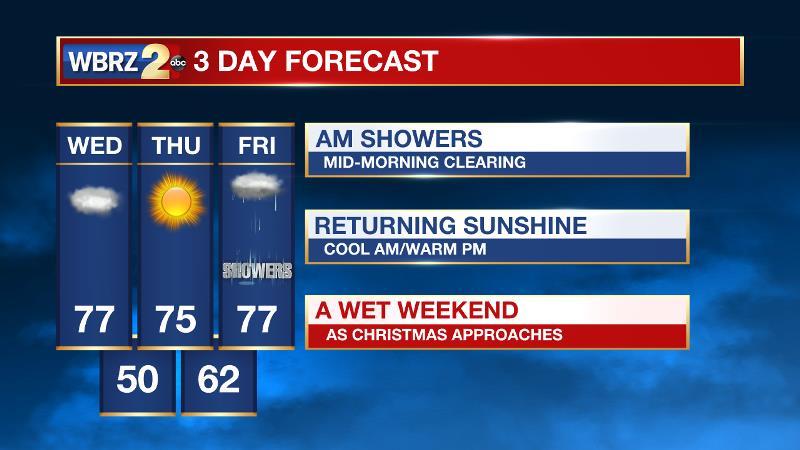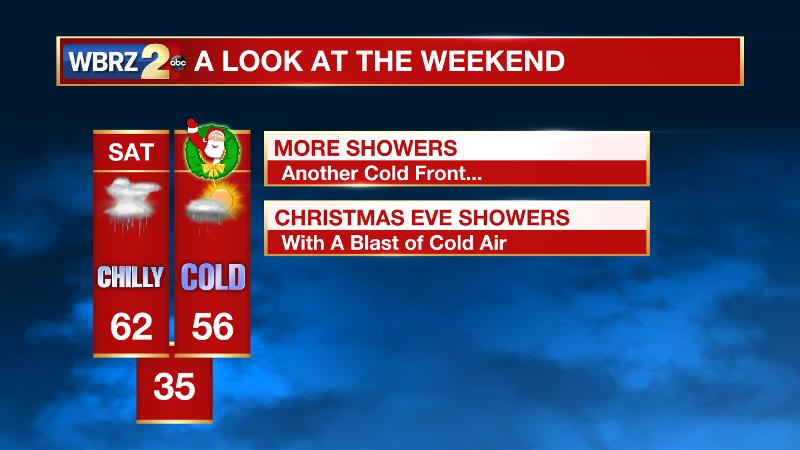 More News