Tropical Depression Two forms in Gulf, no threat to local area
On the first official day of Hurricane Season 2023, Tropical Depression Two has formed in the eastern Gulf of Mexico. This system does not pose a threat to the Baton Rouge Area.
The National Hurricane Center will be posting the first advisories of the year on Tropical Depression Two. Earlier in May, NHC determined that a subtropical system formed over the North Atlantic in January, technically making that Tropical Depression One.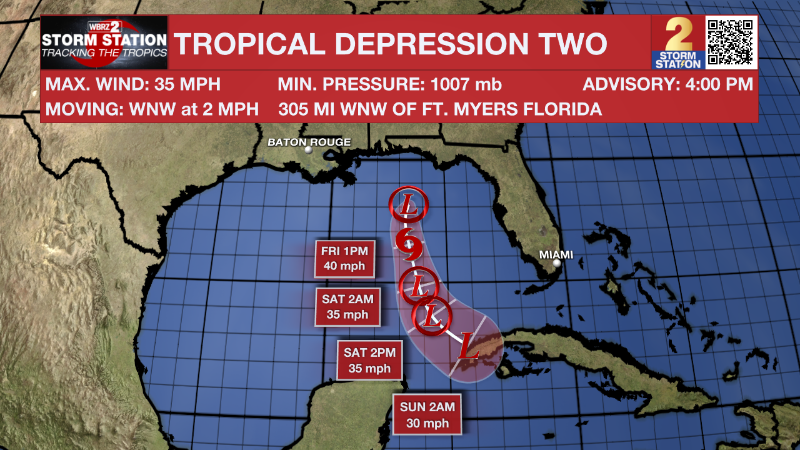 In the eastern Gulf of Mexico, showers and thunderstorms have been increasing in association with a tropical low pressure circulation with maximum sustained winds of about 35 mph. Environmental conditions remain marginally favorable for additional development, as the system meanders over the northeastern Gulf of Mexico through tonight. Tropical Depression Two is expected to take a slow southward motion on Friday and by the weekend, environmental conditions are forecast to become unfavorable for additional development. Even though it will remain offshore, locally heavy rainfall could occur over portions of the Florida Peninsula through the weekend.
Despite warmer than average water temperatures, development of El Niño is expected to work against storm development this season. Still, even a reduction in total activity is meaningless if a storm strikes. It only takes one, so prepare for the season just the same as usual. Some infamous storms have made landfall in lower activity, El Niño seasons such as Hurricane Andrew in 1992.
The Storm Station is here for you, tracking the tropics on every platform. Your weather updates can be found on News 2, wbrz.com, and the WBRZ WX App on your Apple or Android device. Follow WBRZ Weather on Facebook and Twitter for even more weather updates while you are on the go.
More News