Car rams into pedestrians in Melbourne; up to 19 injured
A vehicle plowed into more than a dozen terrified pedestrians in Australia on Thursday, in what police called a "deliberate" and "cowardly" act.
Two people were arrested at the chaotic scene, which was packed with holiday shoppers in Melbourne's central business district.
A young child was among the injured, authorities said.
"We are all caught up in this," Victoria Premier Daniel Andrews said. "We are all deeply sad and deeply wounded by this terrible, terrible act."
The driver of the white Suzuki SUV was arrested on the scene. Victoria Police identified him as a 32-year-old Australian of Afghan descent. Police said the man has a history of drug abuse and mental health issues.
A second person was also arrested after being seen filming the incident, according to Victoria Police. He was found to have three knives in his backpack, but officials do not believe there is a connection between him and the driver.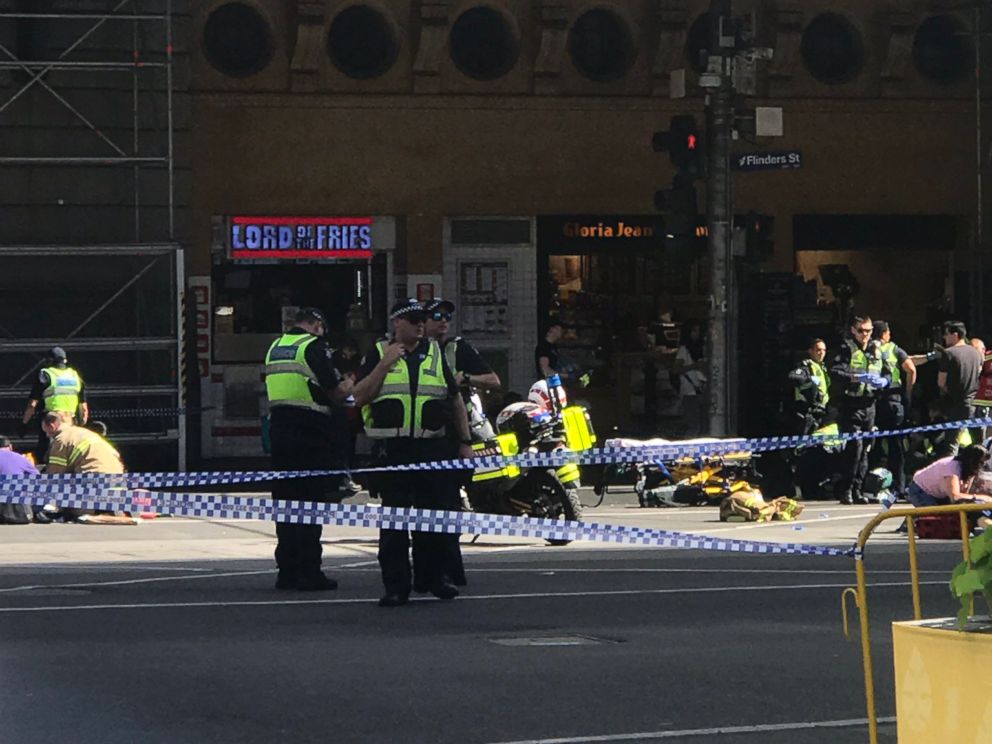 Authorities said the incident, which occurred just after 4:30 p.m. local time, was a "deliberate act," but repeatedly said they do not yet know the motivation, including whether it was terror-related.
Police said 19 people were injured in the ramming, saying "several" were in critical condition and some were stable. The perpetrator and an off-duty police officer, who made the arrest, were included in the injured. 9News in Australia reported a 4-year-old girl was taken to the hospital with a serious head injury.
Based on video footage from the scene, the vehicle used in the ramming was a white Suzuki SUV.
Paul Calahane, a native of Ireland who said he'd been in Melbourne for seven weeks, was coming home from work when the incident unfolded behind him.
"I heard a bit of a bang behind me, even though I had my headphones in with a bit of audio," Calahane told ABC News. "I leaned forward, thinking it was a blast, then I saw people running. I saw people just scattered on the road. ... There were people running, screaming, thinking it was a bomb."
Calahane said he then turned to see the white SUV across the street, which had plowed into a light pole. He said a man was pulled out the vehicle and arrested.
"Within a minute there was about 40, 50 people on the scene," he said. "They were really pushing people back from the scene."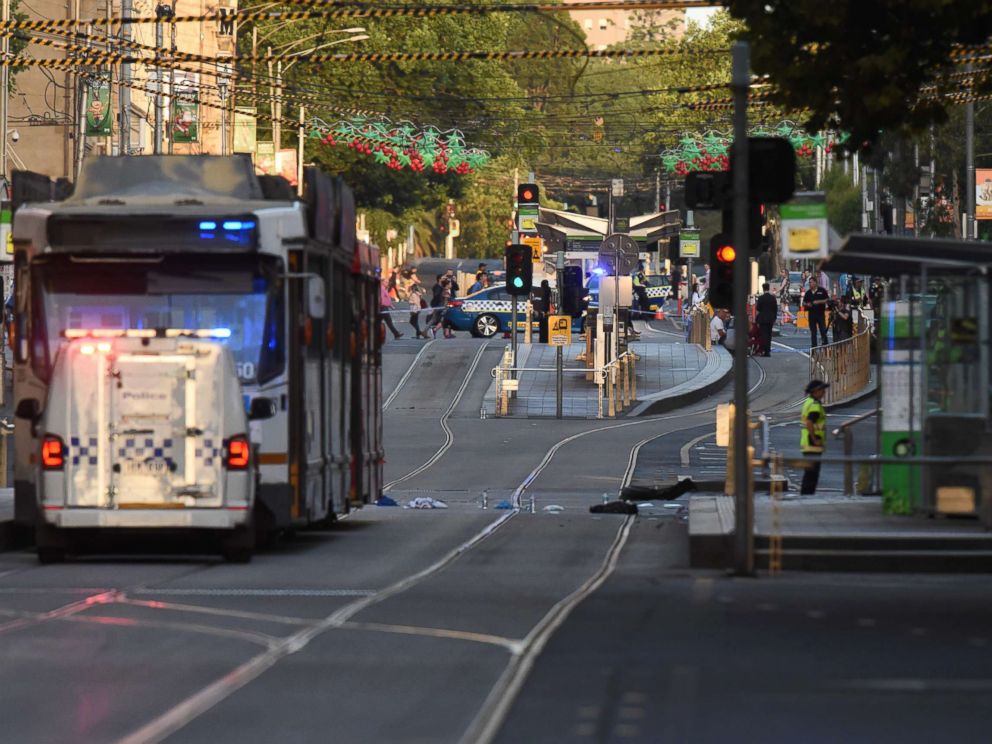 The owner of a bakery across the street, named Jim, told the Australian Broadcasting Corporation he saw many people hit.
"He came to rest just next to the tram stop — maybe the side of the tram stop stopped him — but the only thing that seemed to be slowing him down was the amount of pedestrians he had hit," the man said.
"All you could hear was just 'bang bang bang bang bang.'"
Police said at a Thursday evening press conference security would be stepped up in the area, and that the investigation scene would be in place for a considerable amount of time.
"It sounded as though there could be a bomb, but then people who were there came running into the station, saying that a vehicle had plowed through pedestrians," a woman named Nicola told the Australian Broadcasting Corporation. "And another lady was hysterical because like all of us, it could have been us."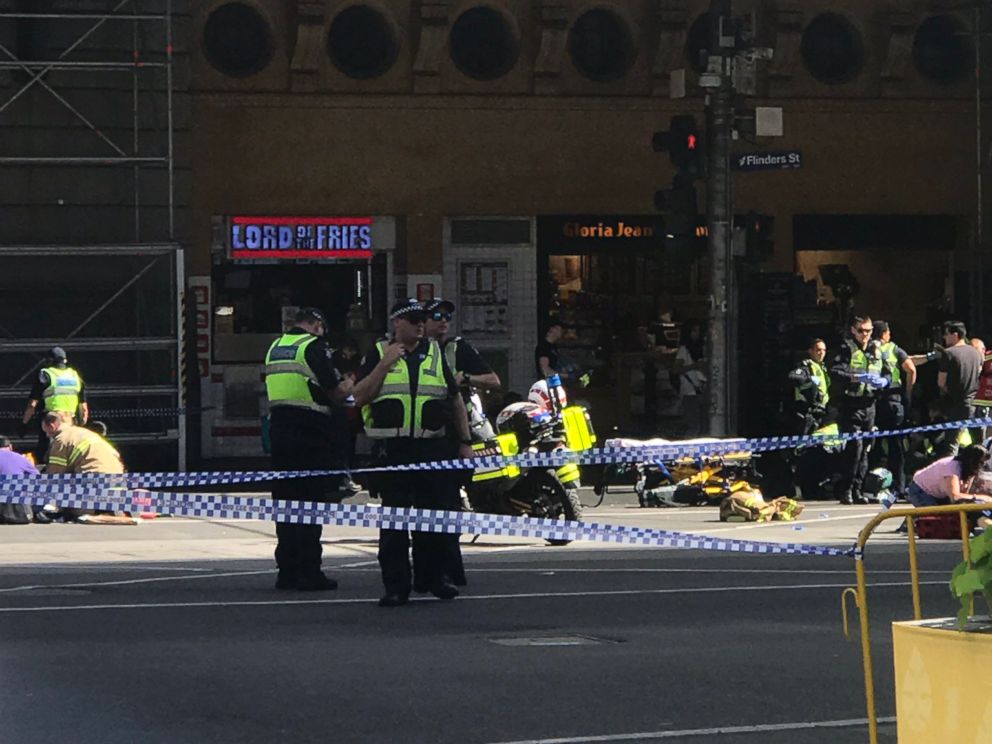 Police said "a number of people were treated at the scene for a range of injuries and have been transported to hospital."
Transit authorities notified riders that routes through the area were being altered.
Six people were killed in a similar incident in Melbourne in January. The driver plowed into crowded Bourke Street, just a few blocks north of Flinders Street, where Thursday's ramming occurred. He was charged with six counts of murder and has pleaded not guilty. Officials did not charge the man with terrorism offenses and his lawyer said he has mental health issues, according to the Australian Broadcasting Corporation.
More News