Sheriff: 14-year-old killed classmate, injured 2 others in St. Helena school shooting; bullying suspected
GREENSBURG - Investigators believe that bullying played a role in the violence that led to the death of a St. Helena Parish teenager and that sent two other students to the hospital.
The community was rocked when shots were fired on the campus of St. Helena College & Career Academy just after the end of the school day on Tuesday.
One student died on site. Family identified the victim as 16-year-old Vernon Gordon Jr.
Sources told WBRZ that a teenager with multiple gunshot wounds walked into the parish hospital around 3:30 p.m. The victim told staff that he had been shot while at the school and that more people were injured.
Back on campus, a helicopter airlifted the other surviving victim to OLOL Children's Hospital in Baton Rouge.
The suspected gunman is a 14-year-old student at the school, according to Sheriff Nat Williams. The boy was arrested shortly after the shooting.
Sources said the weapon used in the killing was a Glock handgun with an extended magazine.
While investigators have honed in on bullying as a factor in the shooting, they haven't detailed the role that played in the violence.
"We hear a lot of theories," Williams told WBRZ on Wednesday. "But we have to follow through on the things we are hearing to make sure it fits the puzzle."
RELATED: Suspected shooter formally charged in teen's killing at Port Allen football game
Tuesday evening, the school system announced that classes for Wednesday and Thursday were canceled, as is this week's football game and school board meeting.
Grief counselors will be on campus when students return to class on Friday.
In a statement Wednesday afternoon, school district officials said their "hearts are broken for the families and friends who suffered unspeakable loss Tuesday. There are no words we can express or actions we can take to remove the pain this has caused in our community."
Officials laid out their "next steps," including a prayer service Friday morning and balloon release that evening.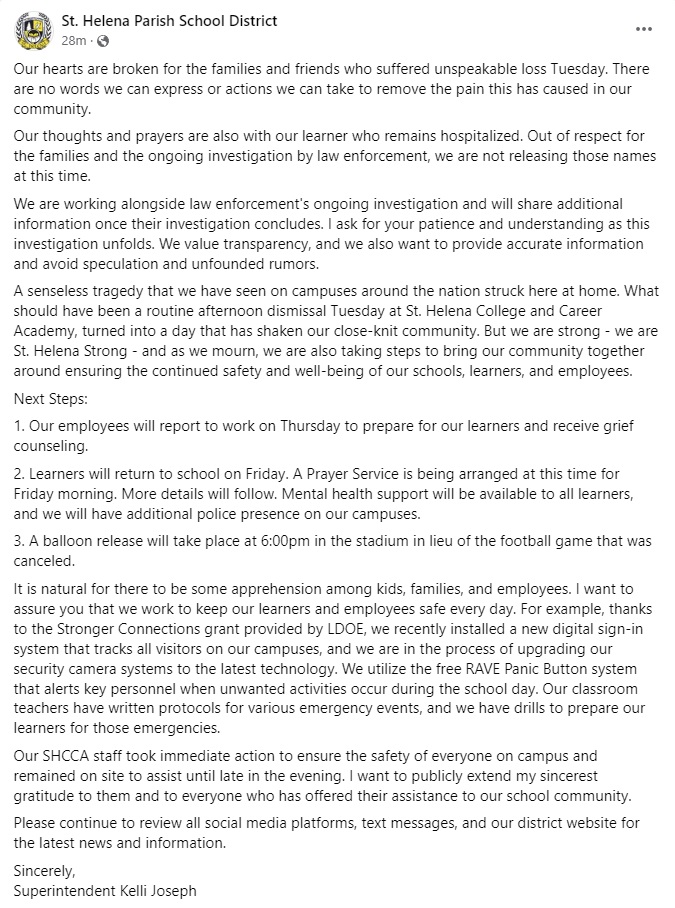 Governor John Bel Edwards issued the following statement Tuesday evening:
Greensburg is a community close to my home and my heart. I was proud to represent St. Helena Parish, along with Tangipahoa, for eight years in the legislature. Donna and I are praying for the families affected by this awful act, and for the entire St. Helena community.
There are far too many Louisianians who have had a shooting close to home. Too many families forever altered by senseless violence. While we seek justice, we must continue to have serious policy discussions about how to end this plague of gun violence in Louisiana and across our country.
More News